Behind This Wall – Derrick Adams, Amoako Boafo, and Vaughn Spann
9 November 2021 – 28 February 2022
Longlati Foundation, Shanghai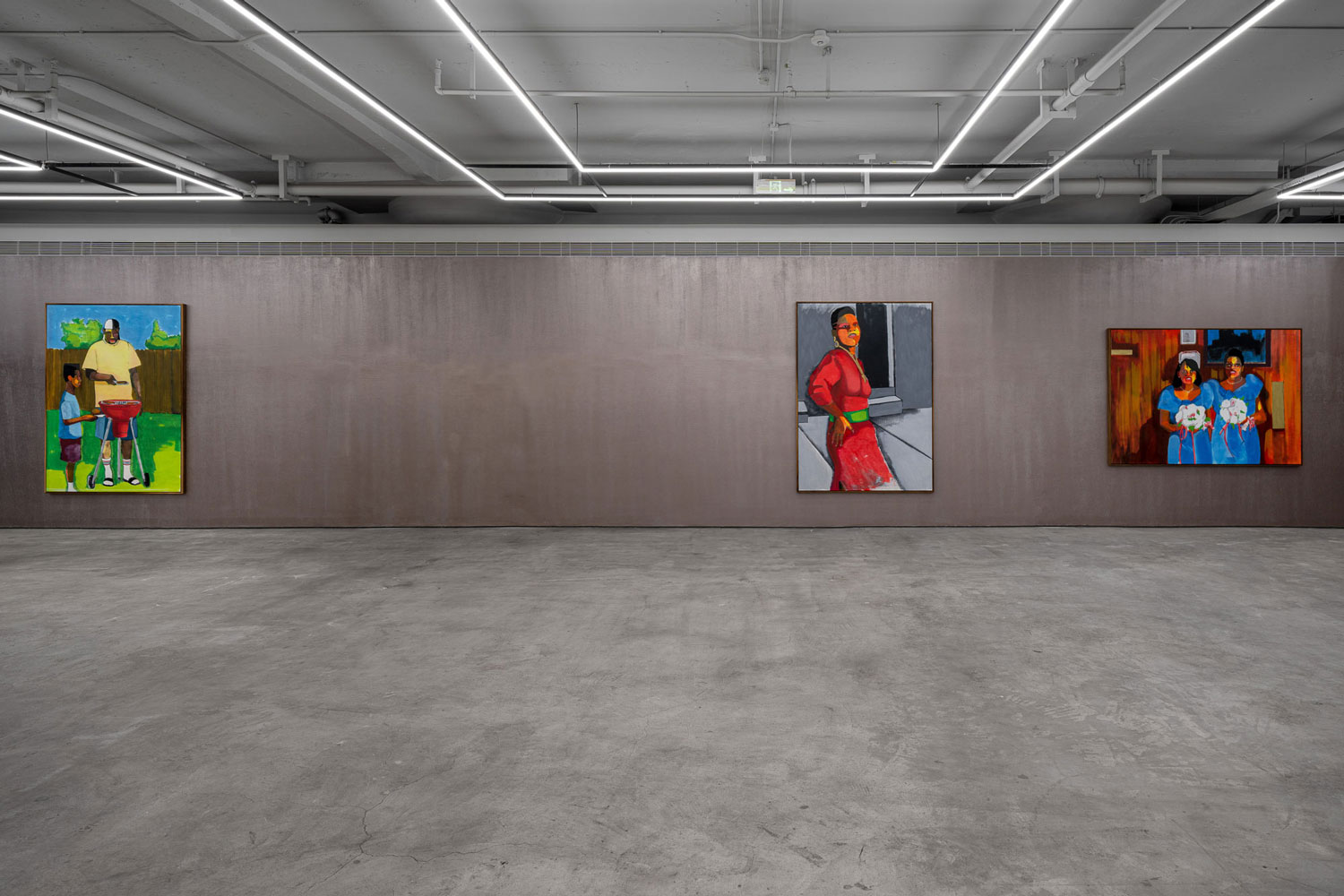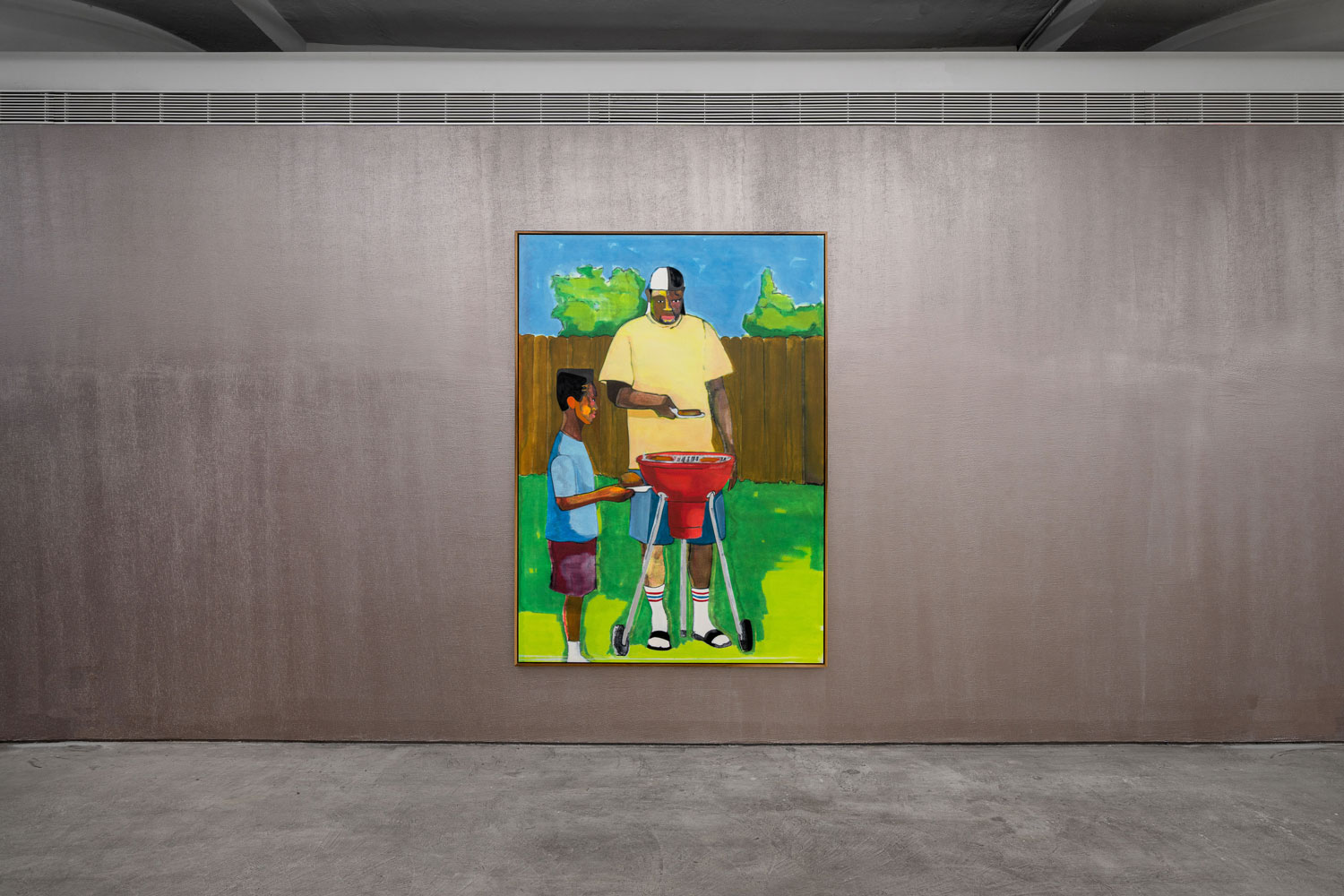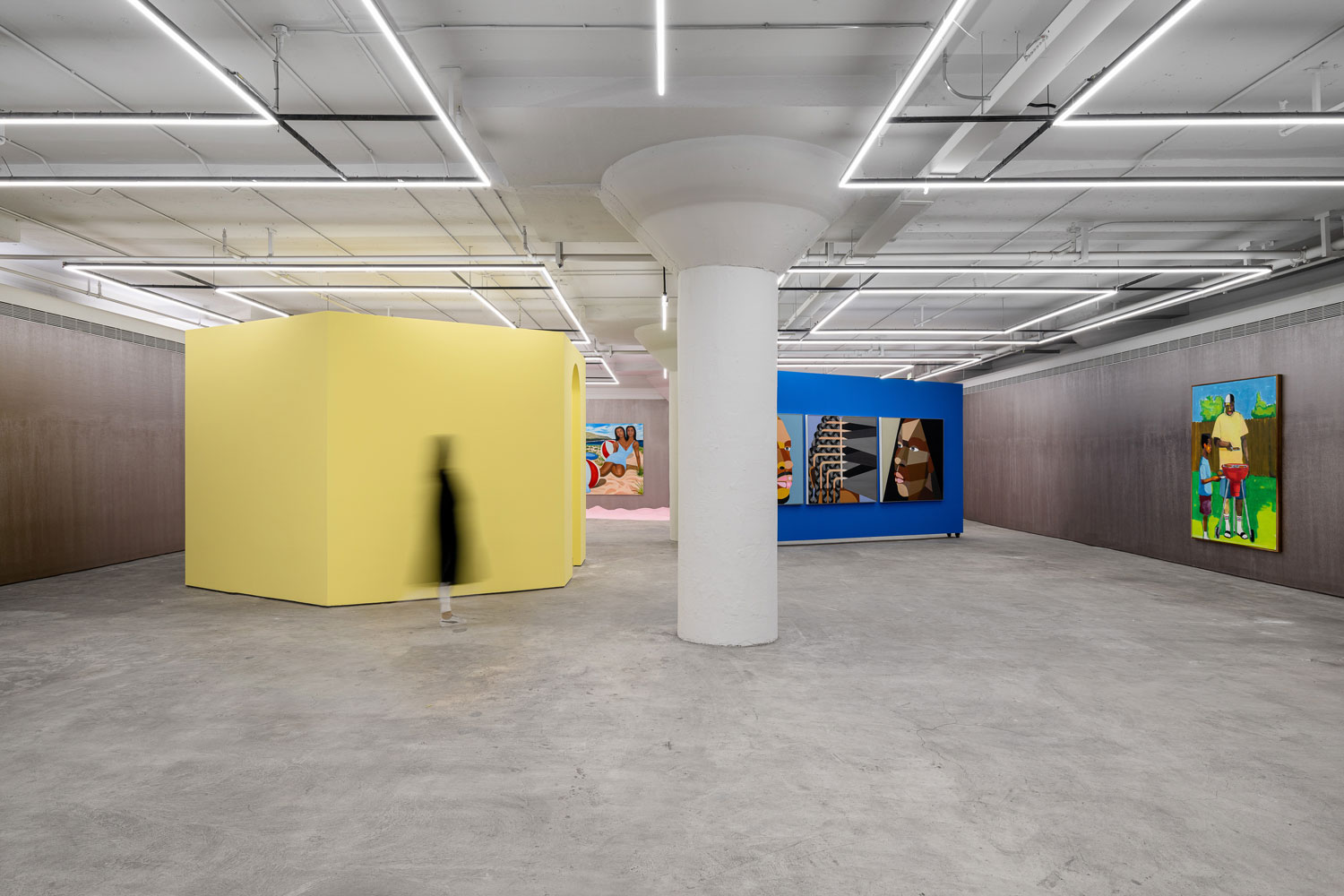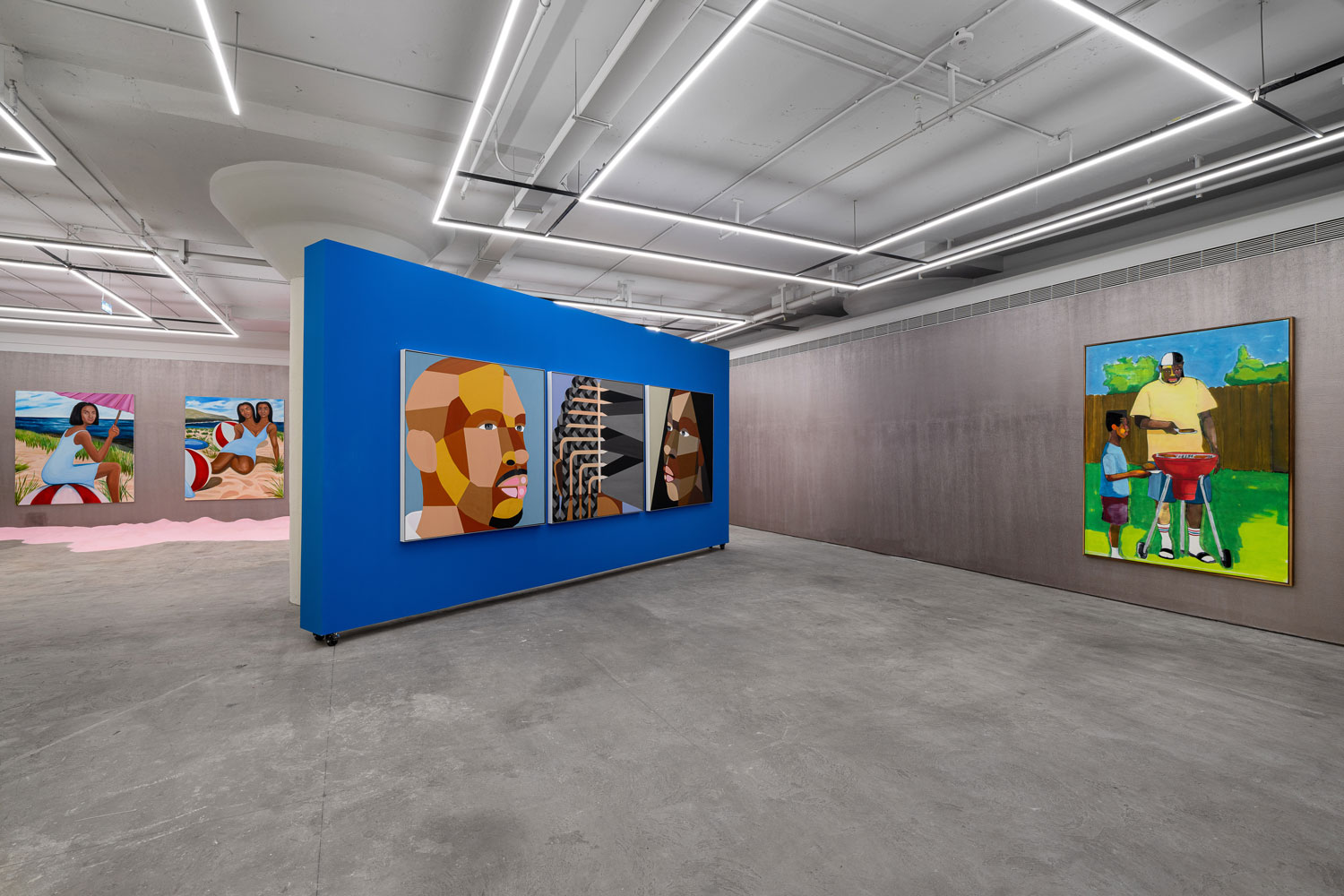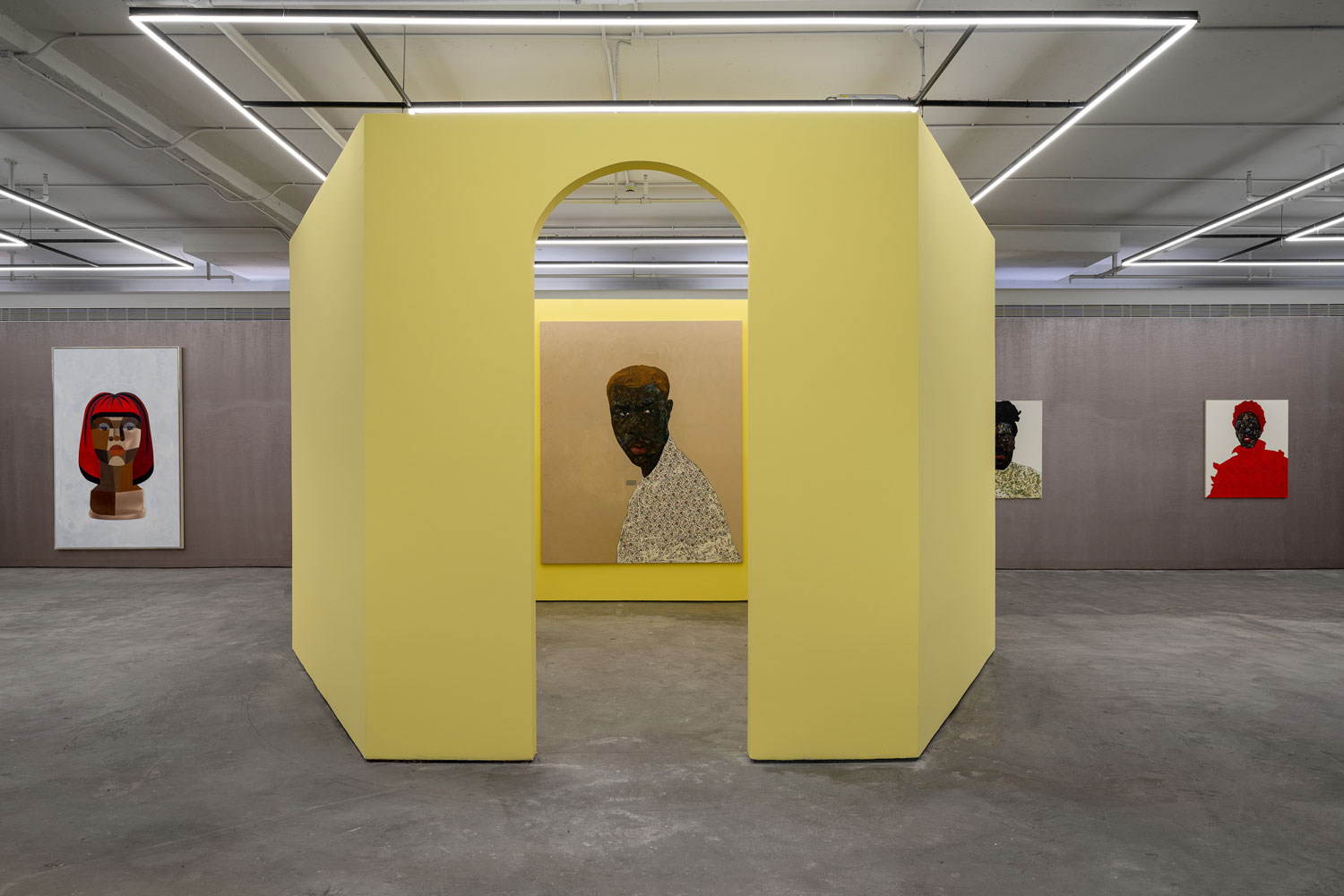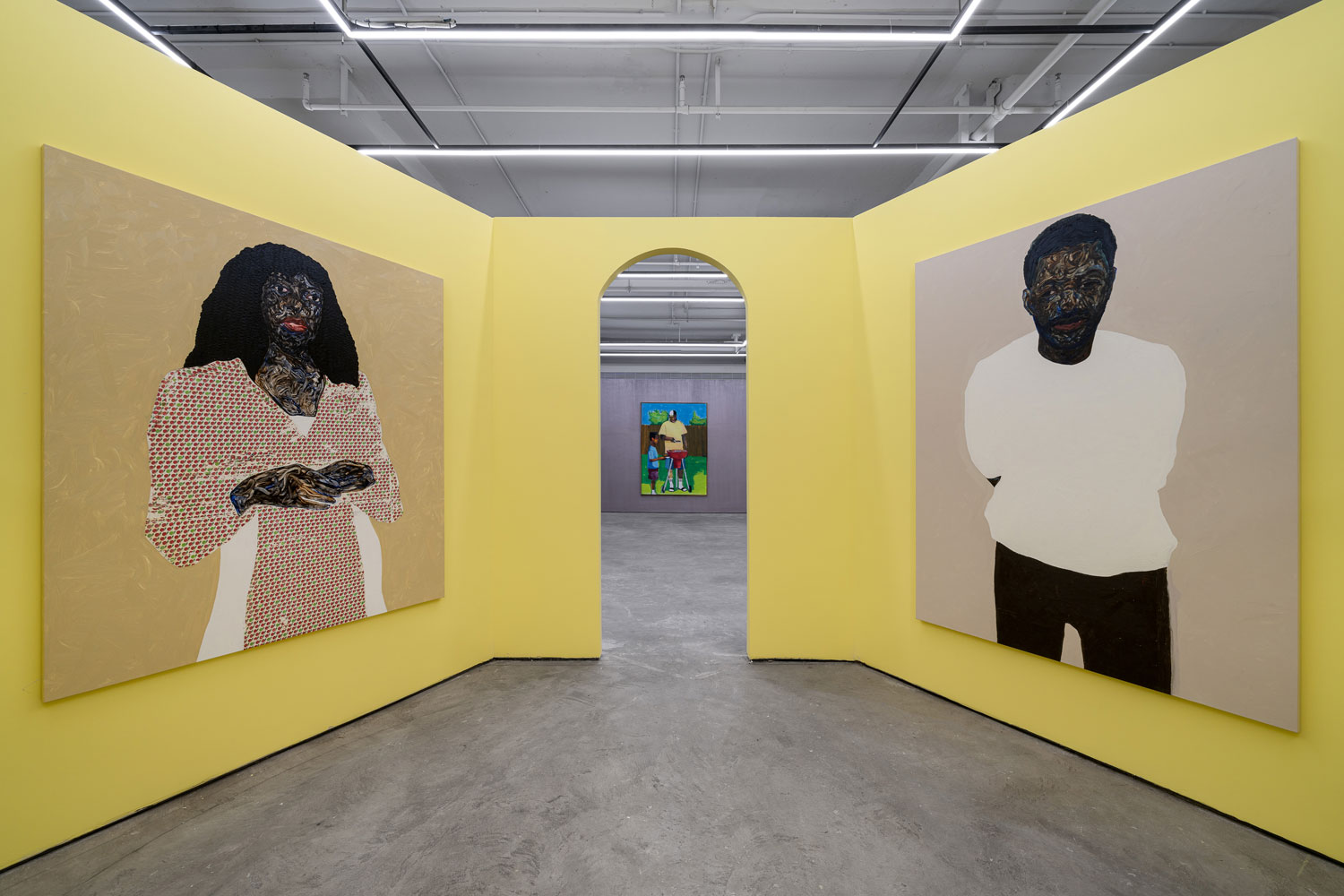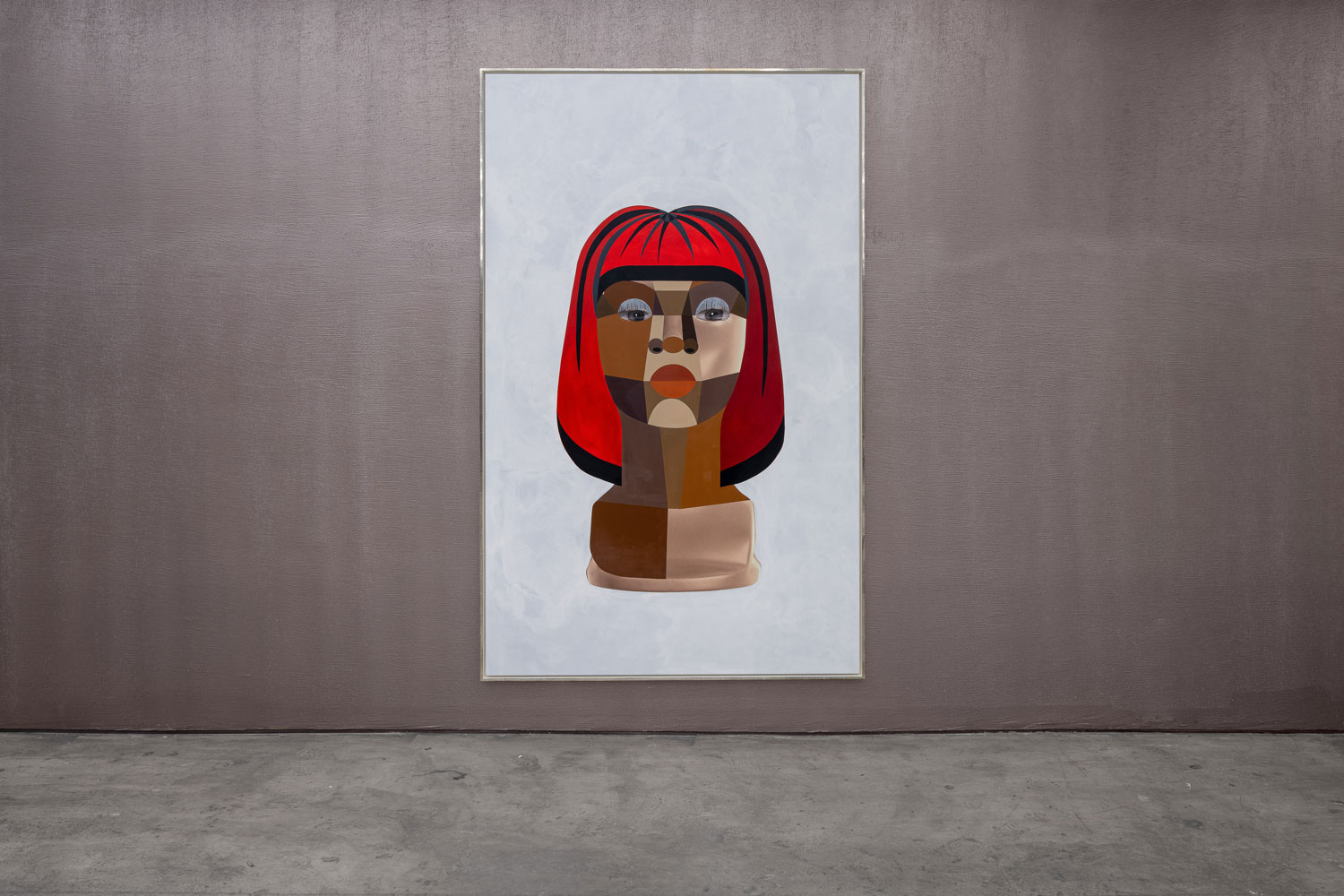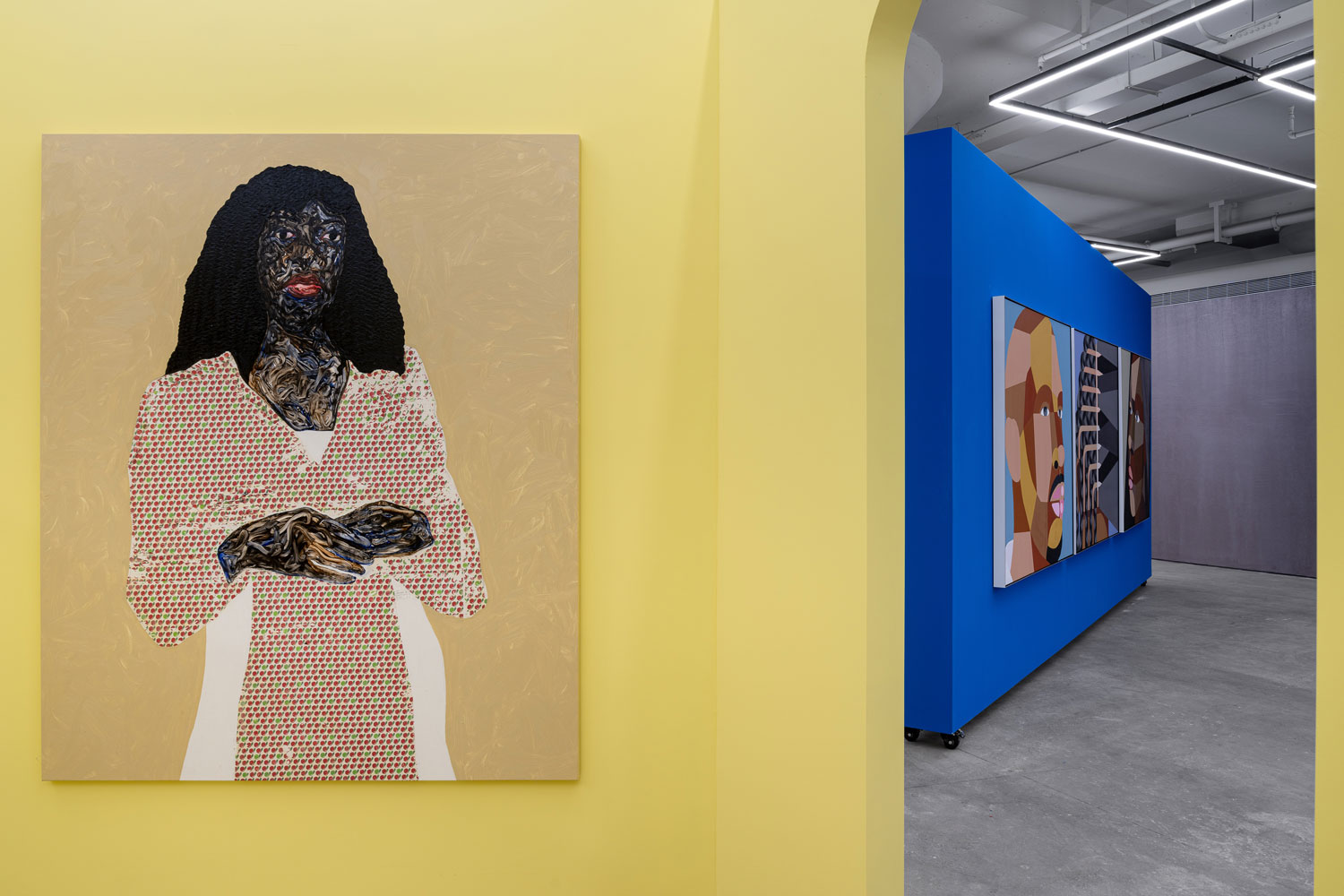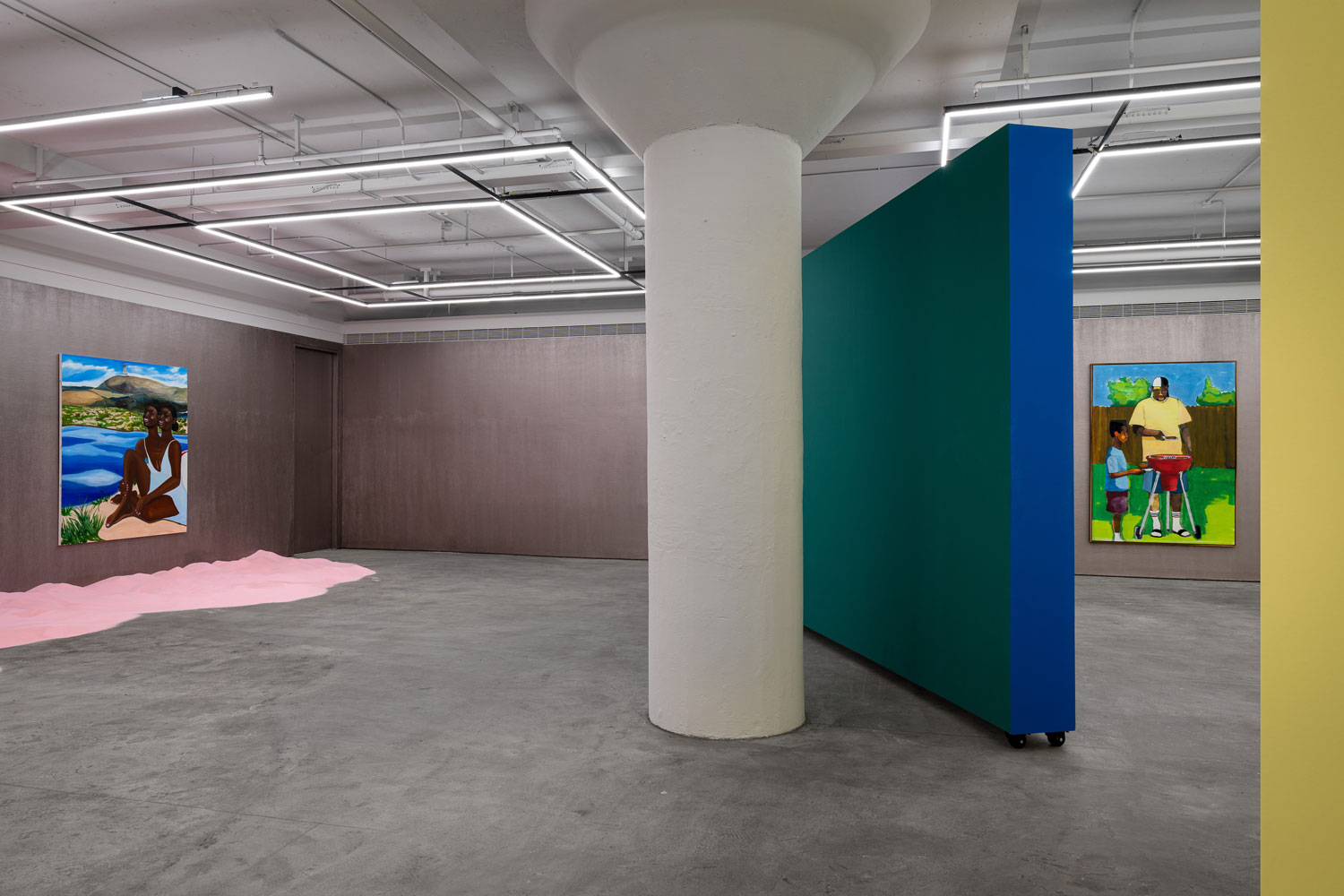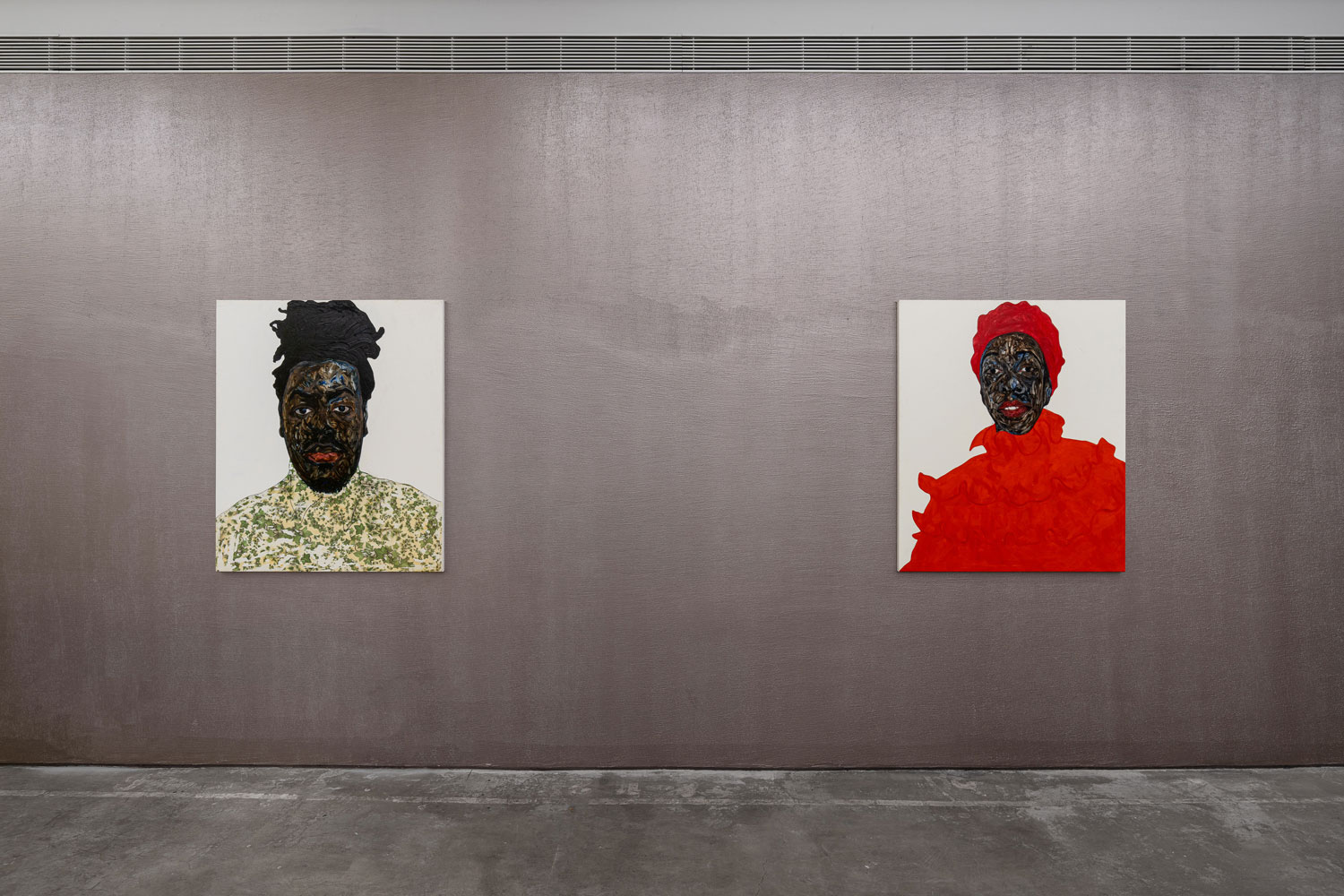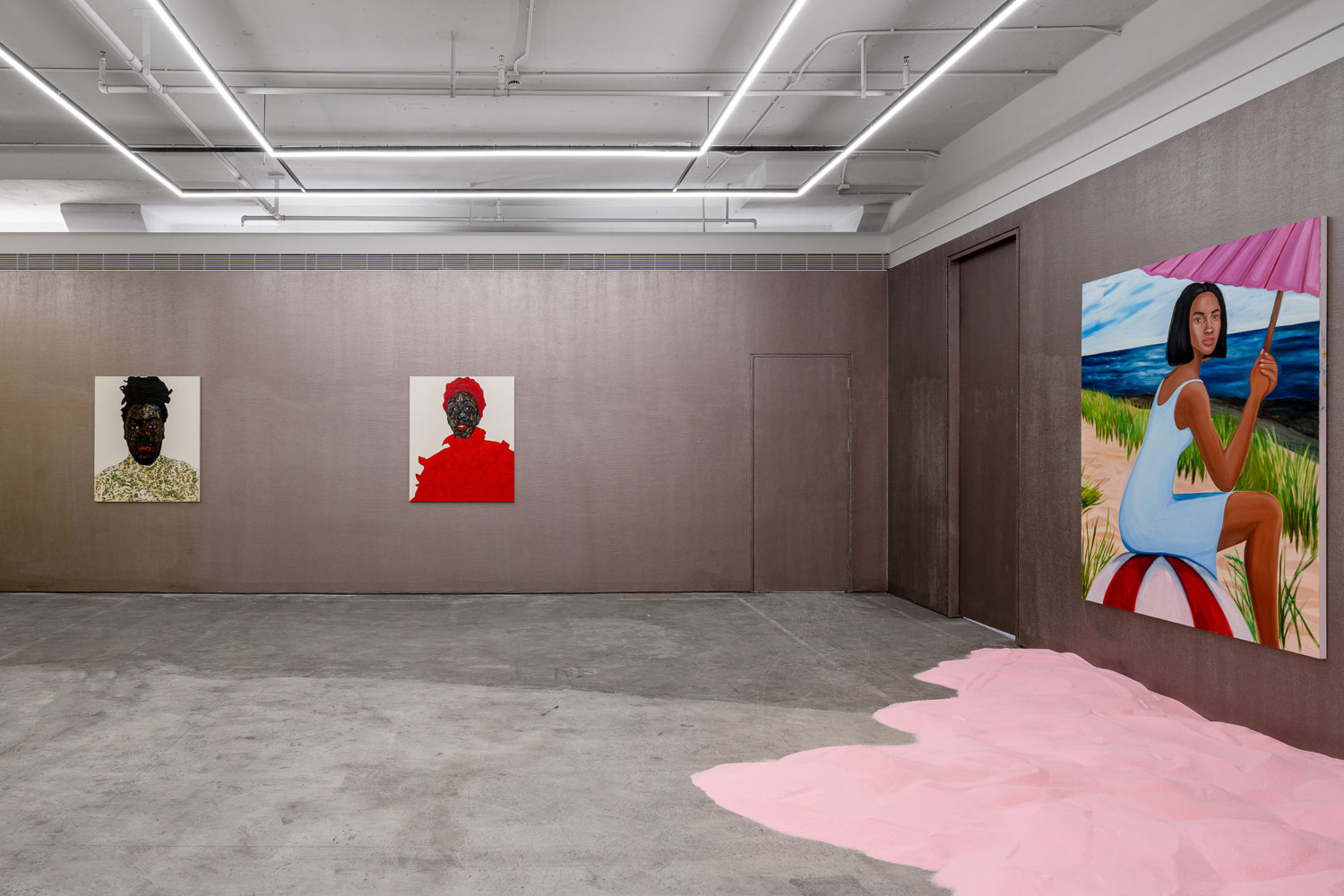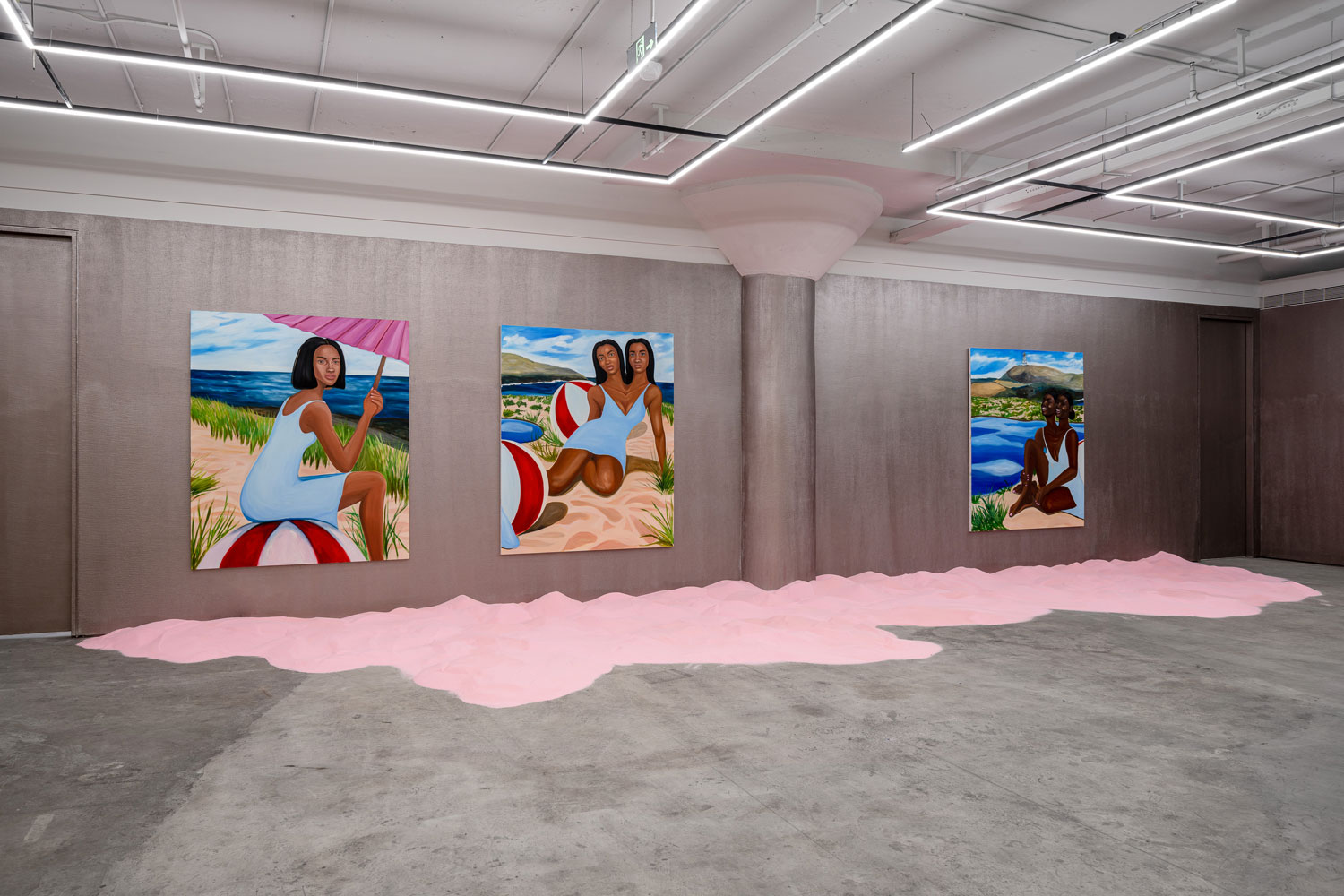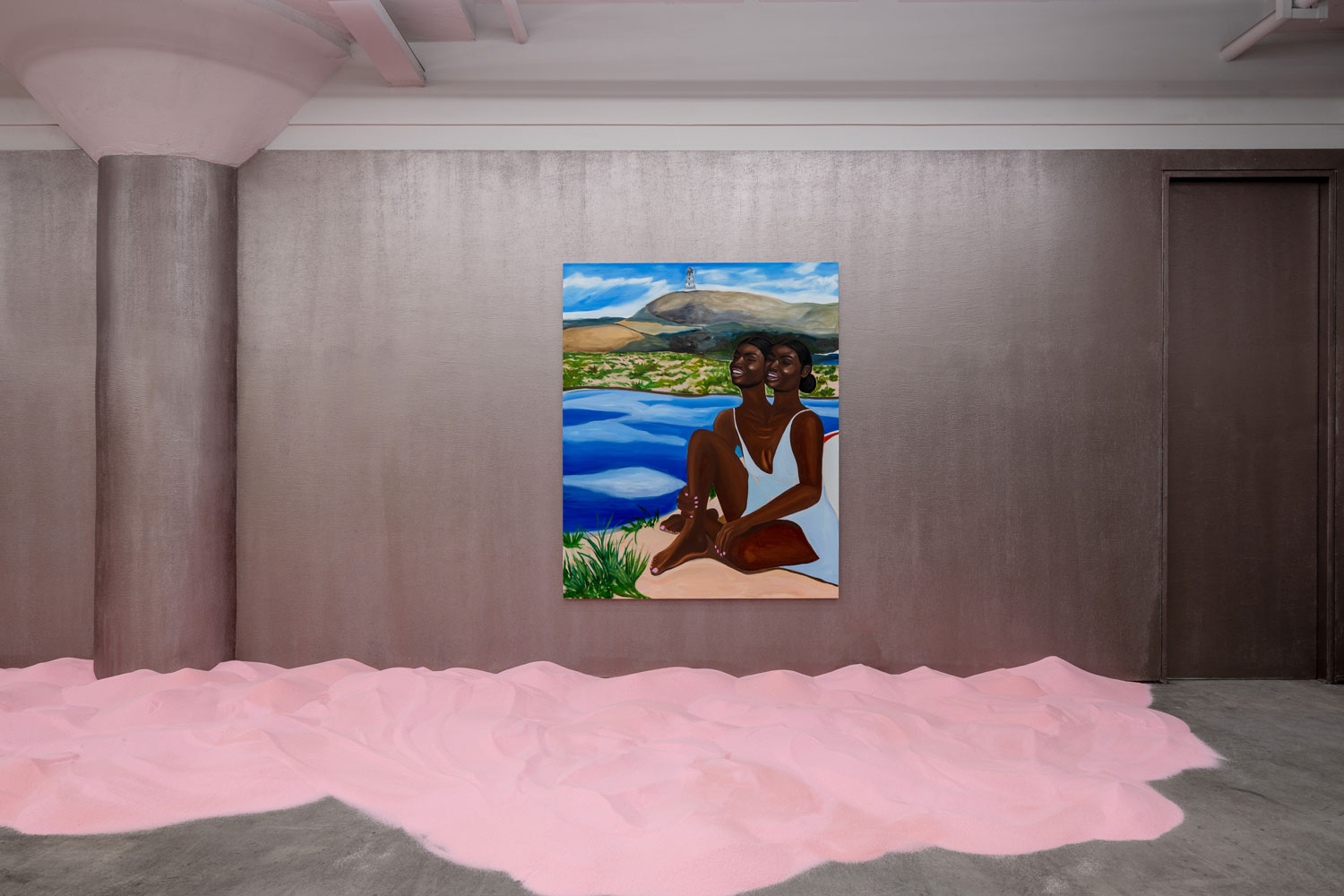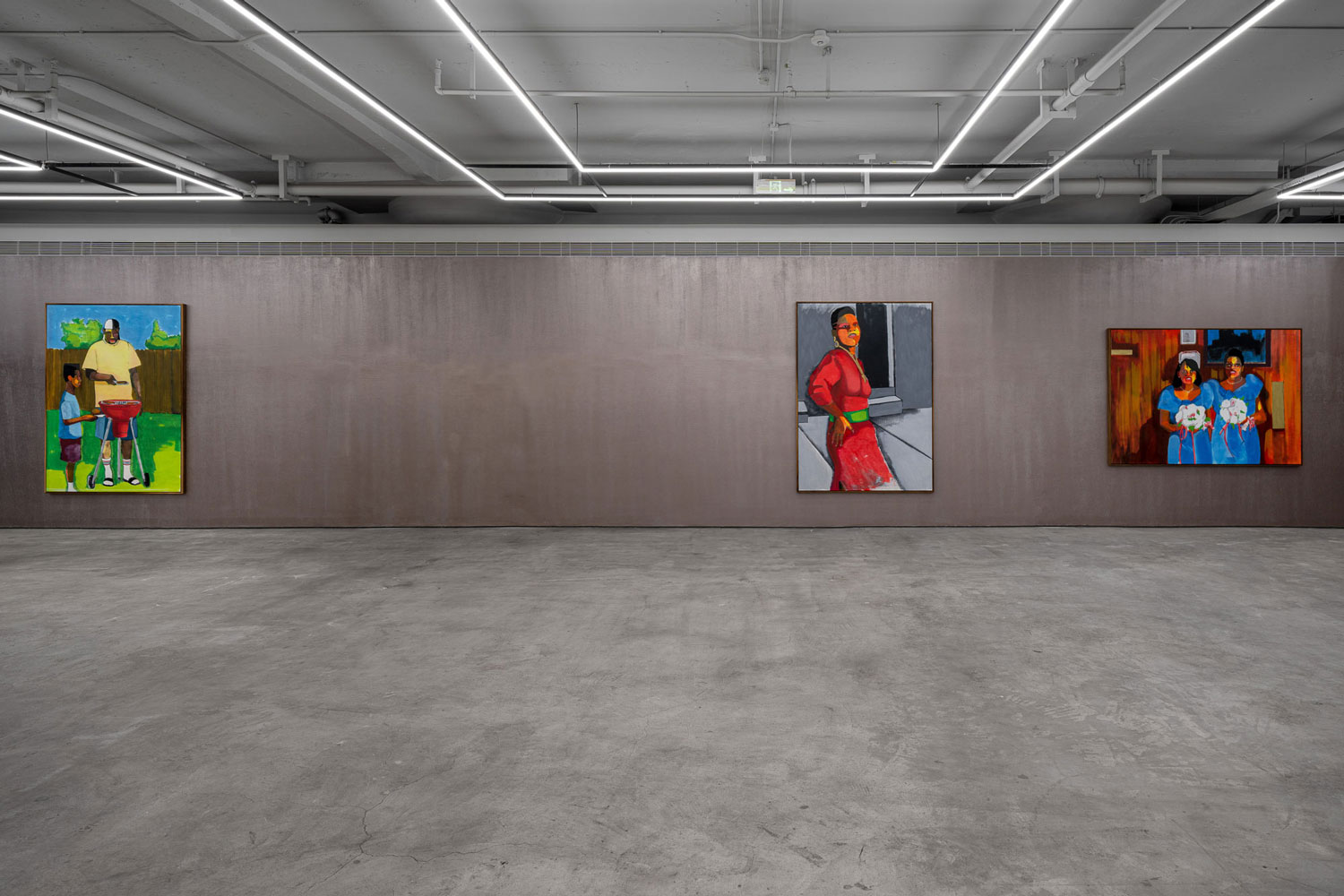 Longlati Foundation is delighted to present "Behind This Wall", a joint exhibition of works by Derrick Adams (b. 1970, Baltimore, Maryland), Amoako Boafo (b. 1984, Osu Accra, Ghana), and Vaughn Spann (b. 1992, Orlando, Florida) who each explore and redefine the idea of Blackness through portraiture-making. Bringing together signature pieces and new commissions, the group show celebrates one of the major themes of the Foundation's longstanding Collection and Patronage Program: to promote the cultures of minorities while manifesting how different vectors of identity crisscross and interweave.
The title of the exhibition, "Behind This Wall", echoes the contributions of African American painter Kerry James Marshall (b.1955, Birmingham, Alabama). Marshall assumes a thoughtful and elaborate approach to challenging the marginalization of Black figures in the Western canon. In a similar vein, with their own distinct modes of expression, Adams, Boafo, and Spann disabuse the audience of the white delusion that has been traditionally perpetuated by the walls of museums, extending the movement for justice and liberation to the art historical realm. "Behind This Wall" aligns with a deliberate plan to integrate identity politics into the art institution, which reflects the unique social agenda of the Longlati Foundation among its counterparts in the city. Showcasing the practices of these preeminent painters who reclaim minority subject positions, the exhibition registers that Blackness is never simple or absolute but rather multifaceted and dynamic.
First shown in China, this selection of 15 portraits composes a cast for an active theater against which the perception of the Black body is processed as universal rather than automatically limited to experiences relevant to Black people. "Behind This Wall" thus is a performative installation on its own wherein lucid figuration blurs into dreamlike symbolism. It embodies the struggles of Adams, Boafo, and Spann to place both personal history and collective memory in mundane spectacles. Derrick Adams incorporates formal consideration of solid colors and geometric shapes into his vibrant depictions of Black faces at ease. Amoako Boafo characterizes the self-assertion of his community by using his fingers to fabricate Black skin. Vaughn Spann portrays two-headed Black figures to enact a conscious form of vigilance. All three artists question the necessary boundaries and ever-changing realities of Blackness.
Special thanks to Almine Rech, Roberts Projects, and Salon 94 for their support of this exhibition.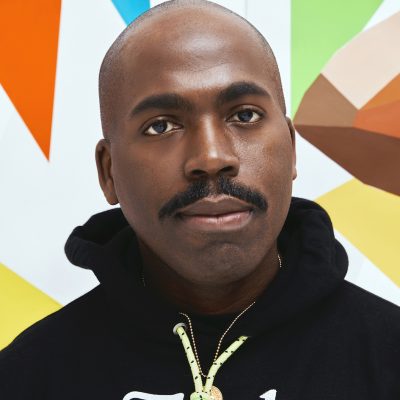 Derrick Adams. Photo by Christopher Garcia Valle. Courtesy of the artist and Salon 94
Derrick Adams (b. 1970, Baltimore, Maryland; based in Brooklyn, New York) received his MFA from Columbia University and BFA from Pratt Institute. His multidisciplinary practice engages the ways in which individuals' ideals, aspirations, and personae become attached to specific objects, colors, textures, symbols, and ideologies. Solo institution exhibitions include Cleveland Art Museum (2021–2022); Henry Art Museum, Seattle (2021); The Momentary, Crystal Bridges Museum of American Art, Bentonville (2021); SCAD FASH Museum of Fashion + Film, Savannah (2020–2021); Hudson River Museum, Yonkers (2020); Museum of Fine Arts, St. Petersburg (2020); The Gallery in Baltimore City Hall (2019); and the Museum of Arts and Design, New York (2018). He has also participated group exhibitions at Kent State University Museum (2021–2022); Peabody Essex Museum, Salem (2020) and Seattle Art Museum (2021); Smithsonian Institution (2019–2020); and Performa, New York (2015, 2013, 2005). His work resides in the collections of The Metropolitan Museum of Art, New York; The Studio Museum in Harlem; the Whitney Museum of American Art, New York; the Virginia Museum of Fine Arts, Richmond; and the Birmingham Museum of Art, among many others.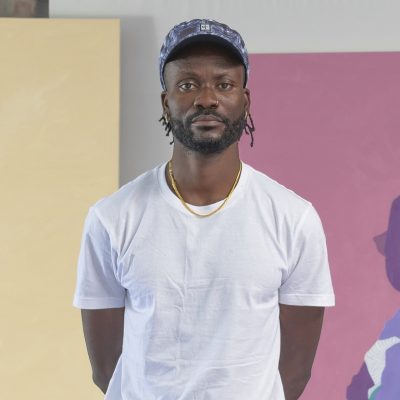 Amoako Boafo, 2021. © Amoako Boafo. Photo by Robert Wedemeyer. Courtesy of the artist and Roberts Projects
Amoako Boafo (b. 1984, Osu Accra, Ghana; based in Vienna, Austria and Accra, Ghana) studied at the Ghanatta College of Art and Design in Accra, Ghana in 2007, before attending the Academy of Fine Arts, Vienna, Austria for his MFA. He has built a practice synthesizing the ways that art both reflects and perpetuates the power of representation. Exclusively portraying individuals from the Diaspora and beyond, Boafo invites a reflection on Black subjectivity, diversity and complexity. First solo exhibition in the States "I See Me" opened at Roberts Projects in 2019. He was the first artist-in-residence at the new Rubell Museum in Miami, Florida. Public collections include The Leopold Museum, Vienna, Austria; Los Angeles County Museum of Art, Los Angeles, California; Solomon R. Guggenheim Museum, New York; Minneapolis Institute of Art, Minneapolis, Minnesota; The Rubell Museum, Miami, Florida; the Hessel Museum of Art, Center for Curatorial Studies Bard College, Annandale-on-Hudson, New York; The Bass Museum of Art, Miami Beach, Florida; Aishti Foundation, Antelias, Lebanon; the Pizzuti Collection of the Columbus Museum of Art, Columbus, Ohio; and The Albertina Museum Vienna, Austria, among others.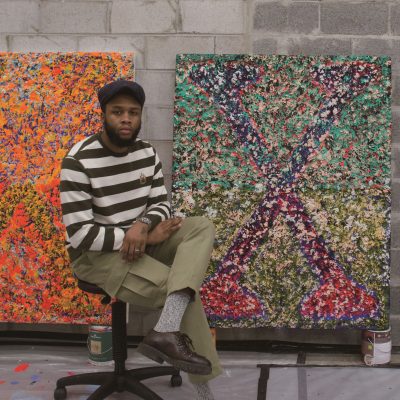 Vaughn Spann. © Vaughn Spann. Photo by Vaughn Spann. Courtesy of the artist and Almine Rech
Vaughn Spann (b. 1992, Orlando, Florida; based in Newark, New Jersey) graduated from Yale School of Art with MFA and Rutgers State University with BFA. Spann devotes his practice to abstraction and figuration as an investigation into space, time and memory. Through his well-known stylistic separations, Spann continues to vigorously experiment with unconventional materials and expands on his personal and historical narratives. He was a recipient of the 2017 Alice Kimball Traveling Fellowship. He has been invited to participate in numerous exhibitions which include shows at Almine Rech Gallery, David Castillo gallery, Gagosian, Blum & Poe, and half Gallery. His work is represented within various public and private institutions which include the Hirschhorn Museum, ICA Miami, NCMA, Montclair Art Museum, Perez Museum of Art, High Museum, UBS Art Collection, Rubell Family Collection amongst others.
Empty section. Edit page to add content here.