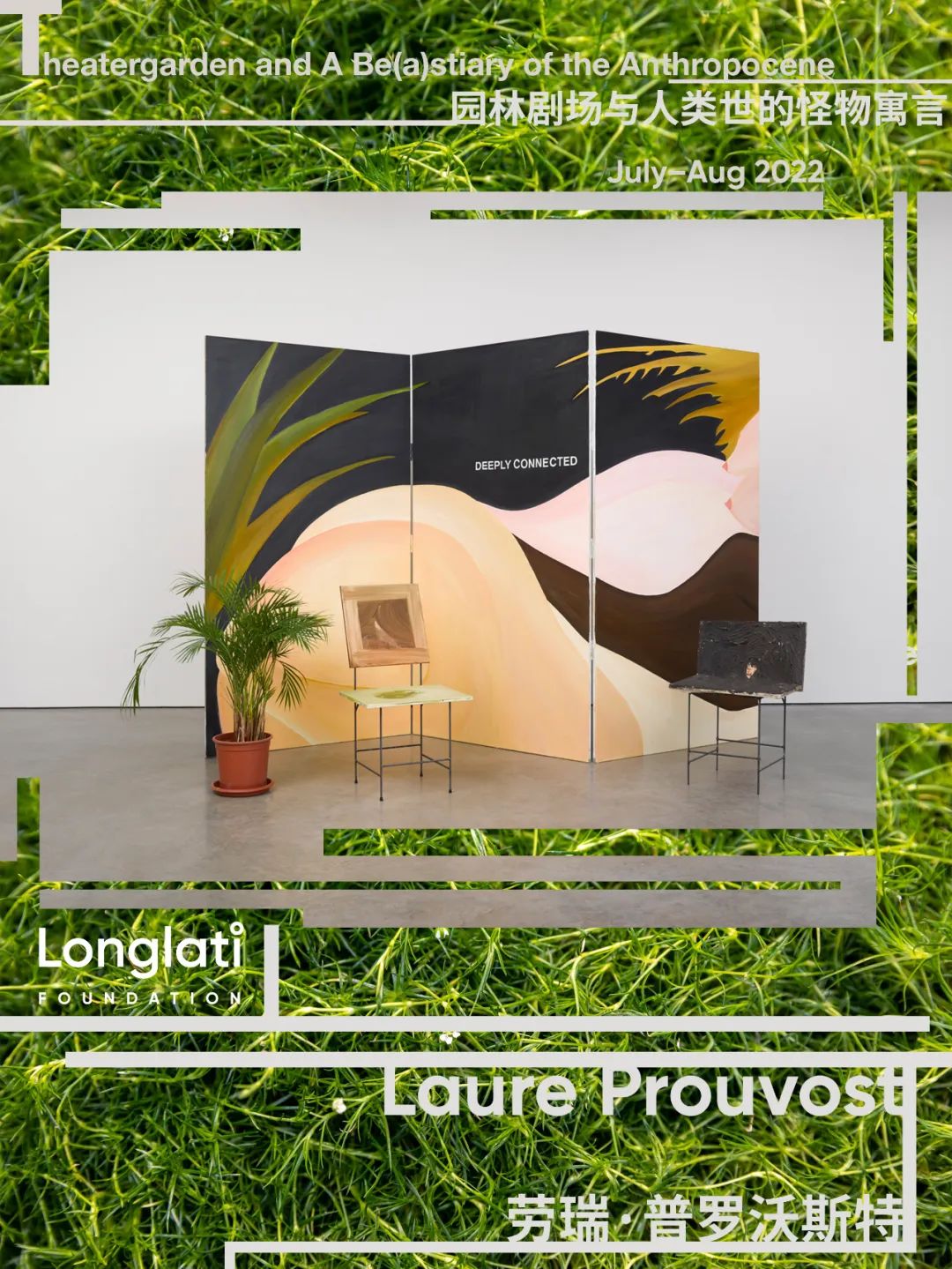 15 July 2022 – 21 August 2022
Longlati Foundation, Shanghai
Produced by Longlati Foundation, "Theatergarden and A Be(a)stiary of the Anthropocene" presents its collection of paintings and glass sculptures by Laure Prouvost (b.1978, Lille, France) along with an array of mediums that span installation, hand-woven tapestry and video from the artist's recent practice. The body of work portrays the disorientation of life-(trans)form in the face of global climate change, while mapping the precariousness of modern language beyond sociopolitical confines.
The very title of the display draws inspiration from the groundbreaking exhibition "Theatergarden Bestiarium" organized by Chris Dercon as premiered in 1989 at Institute for Contemporary Art, P.S.1 Museum, New York. Derived from the text "Bestiarium: Theater and Garden of Violence, War and Happiness" by Rüdiger Schöttle, the curatorial adventure harnesses the classical model of Baroque and Rococo garden, and crystallizes more than 10 artists' ideas into an imaginary field where the natural and the artificial worlds merge.
Longlati Foundation seeks to examine the affinities in form and intent across the immersive inheritance throughout the history of exhibition making beyond the generic expansion of the white wall. In this vein, "Theatergarden and A Be(a)stiary of the Anthropocene" investigates the composition of Chinese classical garden and converts the gallery into a conservatory accordingly, thus constituting an existential ground for reconceiving the embodied rhetorics in Prouvost's oeuvre. Her sculptural assemblage of hybrid creatures intersperses the bedding plants freely and articulates the remnants of preverbal accounts indicated in the rest works, in which shapes of human and non-human apparatuses are displayed in various layers of surreal or quirky embellishment, then carefully configured to incarnate the tension between serenity and cruelty.
Zygmunt Bauman once applied the term "garden" as a convincing analogue for modern society, which has to be designed and maintained in a shaped form by compulsion. The garden maker is responsible for offering proper solutions for growth and eliminating disruptive influences, in order to "divide vegetation into 'cultured plants' to be taken care of." 1 His theory of a gardening state resonates with today's anthropocenic conditions and processes where the viscous entities of hyperobjects 2, as proposed by Timothy Morton, including biomutations or novel viruses disobey the rational framing of the established Earth system. In "Theatergarden and A Be(a)stiary of the Anthropocene", Prouvost questions whether the paradigm of cultivation works as a way out of the upcoming catastrophe or actually it brings up "other" forms of belonging to space, place or landscapes.
It is worth noting that Prouvost has also developed an alternative ideographic language as a revolting gesture to discourage the learning of words and the associated meanings. It permeates both the naming of her works as well as the parallel use of texts and images. Such a delayed articulation invites the audience to decode and reinterpret their own narratives and histories, while encountering the "nature" in the exhibition.
Text / Evonne Jiawei Yuan
[1] Zygmunt Bauman, Modernity and the Holocaust. New York: Cornell University Press, 1989.
[2] Timothy Morton, Hyperobjects: Philosophy and Ecology After the End of the World. Minneapolis: University of Minnesota Press, 2013.
About Artist
Laure Prouvost was born in Lille, France (1978) and is currently based in Brussels. She received her BFA from Central St Martins, London in 2002 and studied towards her MFA at Goldsmiths College, London. She also took part in the LUX Associate Programme. Prouvost won the MaxMara Art Prize for Women in 2011 and was the recipient of the Turner Prize in 2013. Current commissions can be seen in the Beaufort Triennial in De Panne, Belgium and in Europalia Trains & Tracks at Brussels South Station, Belgium. Current solo exhibitions include: 'Deep See Blue Surrounding You, Vois Ce Bleu Profond Te Fondre', Bonnefanten Museum, Maastricht, Netherlands. Current group exhibitions include 'Panorama 23 … by the dream …', Le Fresnoy –National Studio of Contemporary Arts, Tourcoing, France. Recent solo exhibitions include: 'The Long Waited, Weighted, Gathering', Manchester Jewish Museum, Manchester, UK; 'Our elastic arm hold in tight through the claouds' at Kunsthal Charlottenborg, Copenhagen, Denmark (2021); 'Re-dit-en-un-in-learning CENTER' at Lisson Gallery London (2020); 'Melting into one another ho hot chaud it heating dip', Kunsthalle Lissabon, Lisbon, Portugal (2020); 'Deep See Blue Surrounding You / Vois Ce Bleu Profond Te Fondre', Les Abattoirs, Toulouse, France and at LAM – Lille métropole, Villeneuve d'Ascq, France (2020); 'AM-BIG-YOU-US LEGSICON', M HKA – Museum of Contemporary Art Antwerp, Belgium (2019); Palais de Tokyo, Paris, France (2018); BASS Museum, Miami, FL, USA (2018); 'They Are Waiting for You', Performance for stage at the McGuire Theatre, Minneapolis, MN, USA (2018); SALT Galata, Istanbul, Turkey (2017); Kunstmuseum Luzern, Switzerland (2016); Pirelli HangarBicocca, Milan, Italy (2016); Museum Für Moderne Kunst Frankfurt Am Main, Frankfurt, Germany (2016); Red Brick Art Museum, Beijing, China (2016); Haus Der Kunst, Munich, Germany (2015); New Museum, New York, NY, USA (2014); Laboratorio Arte Alameda, Mexico City, Mexico (2014); Max Mara Art Prize for Women, Whitechapel Gallery, London, UK and Collezione Maramotti, Reggio Emilia, Italy (2013); 'Laure Prouvost / Adam Chodzko' as part of 'Schwitters in Britain', Tate Britain, London, UK (2013); The Hepworth Wakefield, Wakefield, UK (2012); and Flat Time House, London, UK. Prouvost represented France at the 58th International Art Biennial Venice, May – November 2019 and was included in 'NIRIN', the 22nd Biennale of Sydney (2020). June 2019 saw the artist's first public commission in the UK through Transport for London's Art on the Underground.
Special thanks to Lisson Gallery for its support of this exhibition.