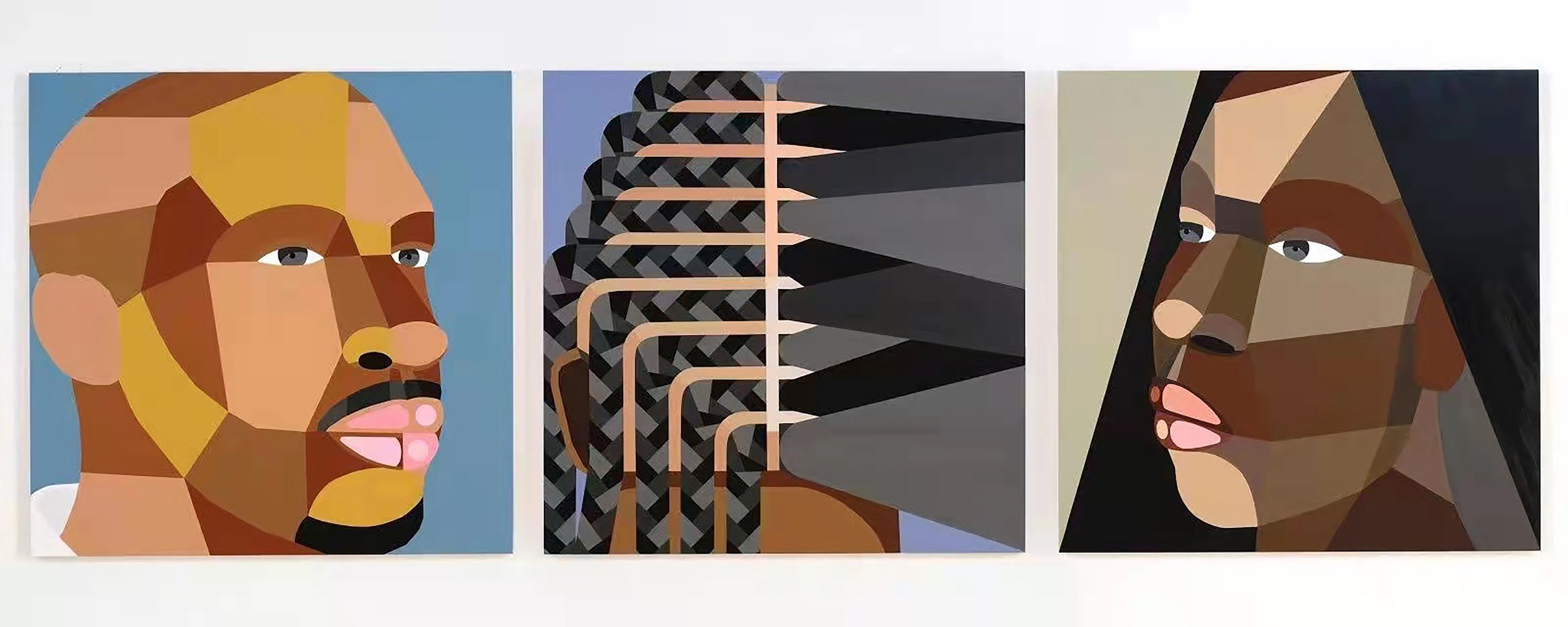 Derrick Adams, Being Seen (Heads in Dialogue), 2021, acrylic paint and fabric collage on paper on wood panel, triptych, 152.2 x 152.2 cm each. Collection of Longlati Foundation. Image courtesy of the artist and Salon 94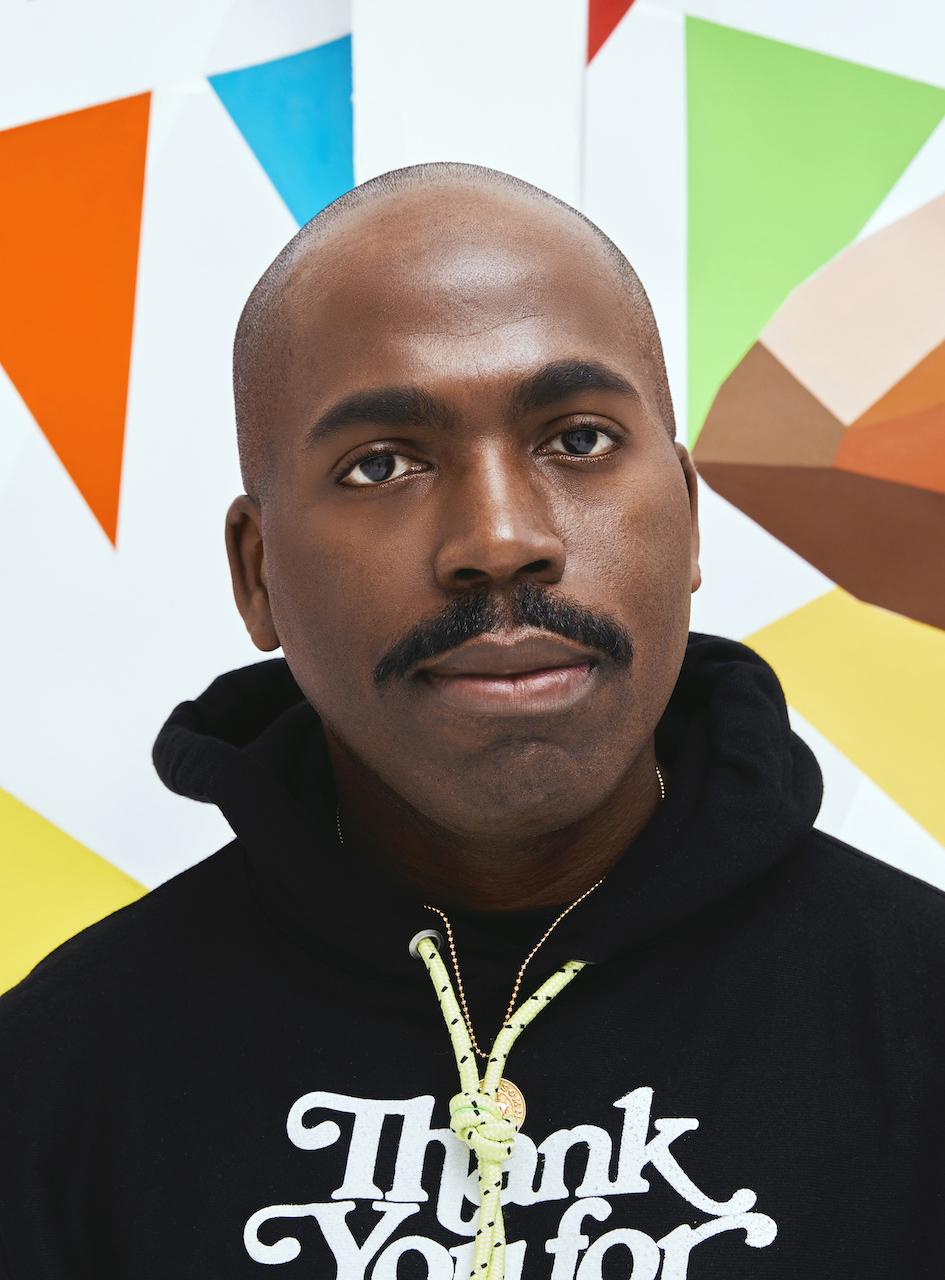 Derrick Adams
Born 1970 in Baltimore, MD, US
Lives and works in Brooklyn, New York, NY, US
Derrick Adams is a New York-based artist whose critically admired work spans painting, collage, sculpture, performance, video, and sound installations. His multidisciplinary practice engages the ways in which individuals' ideals, aspirations, and personae become attached to specific objects, colors, textures, symbols, and ideologies. His work probes the influence of popular culture on the formation of self-image, and the relationship between man and monument as they coexist and embody one another. Adams is also deeply immersed in questions of how Black experiences intersect with art history, American iconography, and consumerism. Most notably in his Floater series, he portrays Black people at leisure, positing that respite itself is a political act when embraced by Black communities. The radicality of this position has materialized in Adams' work across his Deconstruction Worker, Figure in the Urban Landscape, and Beauty World series.
In formal terms, Adams' practice is rooted in Deconstructivist philosophies related to the fragmentation and manipulation of structure and surface, and the marriage of complex and improbable forms. His tendency to layer, hybridize, and collage not only images and materials, but also different types of sensory experiences, link the artist to an estimable lineage of pioneers ranging from Hannah Höch and Henri Matisse, to William H. Johnson and Romare Bearden. In Adams' art, the process can also be understood as an analog: "Everything that we are is based on a specific construction," he once remarked.
Derrick Adams (b. 1970, Baltimore, MD) received his MFA from Columbia University and BFA from Pratt Institute. He is an alumnus of the Skowhegan School of Painting and Sculpture and the Marie Walsh Sharpe Art Foundation Space Program and was the recipient of Robert Rauschenberg Foundation Residency, a Gordon Parks Foundation Fellowship, a Joyce Alexander Wein Artist Prize, and a Louis Comfort Tiffany Foundation Award.
Adams has been the subject of solo exhibitions at institutions such as The Momentary, Crystal Bridges Museum of American Art, Bentonville (2021); SCAD FASH Museum of Fashion + Film, Savannah (2020–2021); Hudson River Museum, Yonkers (2020); Museum of Fine Arts, St. Petersburg (2020); The Gallery in Baltimore City Hall (2019); and the Museum of Arts and Design, New York (2018). The artist has mounted public installations commissioned through MTA Arts & Design at the Nostrand Avenue LIRR Station, Brooklyn (2020–ongoing); and RxART at NYC Health + Hospitals/Harlem (2019–ongoing). His work has been featured in notable group exhibitions, including Textures: The History and Art of Black Hair, Kent State University Museum (2021–2022); Jacob Lawrence: The American Struggle, Peabody Essex Museum, Salem (2020), now at the Seattle Art Museum (2021); Men of Change: Power. Triumph. Truth., National Underground Railroad Freedom Center, Cincinnati (2019), traveled to Washington State History Museum, Smithsonian Institution, Tacoma (2019–2020); and Performa, New York (2015, 2013, 2005). His art resides in the collections of The Metropolitan Museum of Art, New York; The Studio Museum in Harlem; the Whitney Museum of American Art, New York; the Virginia Museum of Fine Arts, Richmond; and the Birmingham Museum of Art, among many others. He has recently established an artist program and residency in his hometown of Baltimore called The Last Resort.
EDUCATION
2003
MFA, Visual Arts, Columbia University, New York, NY
1996
BFA, Art & Design Education, Pratt Institute, Brooklyn, NY
SELECTED SOLO EXHIBITIONS
2021
Derrick Adams, Salon 94, New York, NY (forthcoming)
Derrick Adams, Rhona Hoffman Gallery, Chicago, IL (forthcoming)
Derrick Adams, Henry Art Museum, Seattle, WA (forthcoming)
Derrick Adams: Sanctuary, The Momentary, Bentonville, AR (forthcoming)
2020
Derrick Adams: Buoyant, Hudson River Museum, Yonkers, NY
Patrick Kelley, The Journey, SCAD FASH Museum of Fashion + Film, Savannah, GA
Derrick Adams: Transformers, Luxembourg & Dayan, London, UK
2019
The Extreme Present, Moore Building, Miami, FL
Family Matters, Luxembourg Dayan, London, UK
The Ins and Outs: Figures in the Urban Landscape, Rhona Hoffman Gallery, Chicago, IL
Where I'm From, The Gallery in Baltimore City Hall, Baltimore, MD
Derrick Adams: Interior Life, Luxembourg & Dayan, New York, NY
New Icons, Mary Boone Gallery, New York, NY
2018
The Journey Continues, Ford Foundation Live Gallery, New York, NY
Derrick Adams: Transmission, Museum of Contemporary Art, Denver, CO
Derrick Adams: Sanctuary, Museum of Arts and Design, New York, NY
Derrick Adams: People Person, Anne de Villepoix, Paris, FR; Private Offices, New York, NY
2017
Derrick Adams: Black White & Brown, Primary Projects, Miami, FL
Figures in the Urban Landscape, Tilton Gallery, New York, NY
Repose, UTA Artist Space, Los Angeles, CA
Tell Me Something Good, Rhona Hoffman Gallery, Chicago, IL
Derrick Adams: Patrick Kelly, The Journey, Countee Cullen Library, The Studio Museum in Harlem, New York, NY
Network, California African American Museum, Los Angeles, California
Future People, Stony Island Arts Bank, Rebuild Foundation, Chicago, IL, Curated by Theaster Gates
2016
Float, Vigo Gallery, London, UK
Derrick Adams x Messages in the Street, Chicago, IL
ON, Pioneer Works, Brooklyn, NY
Culture Club, Project for Empty Space, Gateway Project Spaces, Newark, NJ
Black and White and in Color, Galerie Anne de Villepoix, Paris, FR
Crossroad: A Social Sculpture, Bemis Center for Contemporary Arts, Omaha, NE
2015
The Holdout (performance + installation), Aljira: A Center for Contemporary Art, Newark, NJ
2014
LIVE and IN COLOR, Tilton Gallery, New York, NY
Derrick Adams, T Magazine Villa Necchi-Campiglio, Milan, IT
Borough, Rhona Hoffman Gallery, Chicago, IL
2013
Aestheticized Reductions of Self-Representation, Hales Gallery, London, UK
In The Company Of Others, Louis B. James, New York, NY
DISPLAY: Cloaked in the Proprieties of the Culture Game, 80WSE Gallery, New York, NY
Becoming One With Your Environment, Galerie Anne De Villepoix, Paris, FR
2012
Cameron Visiting Artist: Derrick Adams, Mahaney Center for the Arts, Middlebury, VT
Hillman U. – A Dream Deferred, A Dream Fulfilled, Proposition Gallery, New York, NY
The World According to Derrick, Mills Gallery, Boston Center for the Arts, Boston, MA
Man As His Element, Colburn Gallery, The University of Vermont, Burlington, VT
Deconstruction Worker, Tilton Gallery, New York, NY
2010
Welcome to Monument City, Collette Blanchard Gallery, New York, NY
2009
Introduction to Bizarro Wiz, (Installation + performance at Le Jardin Theatre, Deauville Beach Resort), NADA, Miami Beach, FL
2006
Sometimes I Just Don't Feel Like Myself (installation + per- formance), Momenta Arts, Brooklyn, NY
2005
I'm Sorry, I'm Lost, Marvelli Gallery, New York, NY
I'm Smoke; You're Mirror (installation + performance), Participant Inc., New York, NY
2004
Me and My Imaginary Friends (installation + perfor- mance), Triple Candie, New York, NY
2003
The Big Getaway, Jack Tilton Gallery, New York, NY
SELECTED GROUP EXHIBITIONS
2020
Painting is painting's favorite food, South Etna, Montauk, NY
TEXTURES: the history and art of Black hair, Kent State University Museum, Kent, OH
Drawing 2020, Gladstone Gallery, New York, NY
Jacob Lawrence: The American Struggle, Peabody Essex Museum, Salem, MA
Collectouples, New York Academy of Art, New York, NY
Sounds Lasting and Leaving, Luxembourg & Dayan, New York, NY
Jacob Lawrence: The American Struggle, Peabody Essex Museum, Salem, MA
2019
The Extreme Present, presented by Larry Gagosian, Moore Building, Miami Design District, Miami Beach, FL
Men of Change: Power. Triumph. Truth., Smithsonian Institution, Washington State
Historical Society, Tacoma, WA; National Underground Railroad Freedom Center, Cincinnati, OH
Figuring the Floral, Wave Hill, New York, NY
Painting Is Its Own Country, curated by Dexter Wimberly, Harvey B. Gantt Center for African-American Arts + Culture, Charlotte, NC
Packaged Black: Barbara Earl Thomas and Derrick Adams, a collaboration, Henry Art Gallery at University of Washington, Seattle, WA
Made at the New York Public Library, Stephen A. Schwarzman Building, New York Public Library, New York, NY
2018
American Family: Derrick Adams and Deana Lawson, The Gordon Parks Foundation, Pleasantville, NY
Cry of Victory and Short Walks to Freedom, Projects+Gallery, St Louis, MO
Punch, curated by Nina Chanel Abney, Jeffrey Deitch, New York, NY
Postcard from New York- Part II, Anna Marra Contemporanea, Rome, IT
Talisman in the Age of Difference, Stephen Friedman Gallery, London, UK
Go Figure, Pizzuti Collection, Columbus, OH
2017
Prospect.4, Prospect New Orleans, New Orleans, LA
Maker, Maker, Children's Museum of the Arts, New York, NY
Unobstructed Views, Hawkins Ferry House in partnership with Library Street Collective and the Museum of Contemporary Art Detroit, Detroit, MI
Lines of Influence, SCAD Museum of Art, Savannah, GA
Third Space /Shifting Conversations about Contemporary Art, curated by Wassan AlKhudhair, Birmingham Museum of Art, Birmingham, AL
2016
Baltimore Rising, The Maryland Institute College of Art, Baltimore, MD
FLAT SCREEN, SPLIT SCREEN, SMOKE SCREEN, Barbara Walters Gallery, Heimbold
Arts Center, Sarah Lawrence College, New York, NY
40 Years, Part 1, Rhona Hoffman Gallery, Chicago, IL
Experiments in Print: Derrick Adams, Matthew Day Jackson, Dread Scott & Kate Shepherd, The Print Center, Philadelphia, PA
Black Pulp, Yale School of Art, 32 Edgewood Gallery, New Haven, CT
Tete-a-Tete, Aperture Foundation, New York, NY
2015
Us Is Them, Pizzuti Collection, Columbus, OH
Young, Gifted and Black, Goodman Gallery, Johannesburg, South Africa
All Killer No Filler, Eric Firestone Gallery, East Hampton, NY
Geometries of Difference: New Approaches to Ornament and Abstraction, Samuel Dorsky
Museum of Art, New Paltz, NY