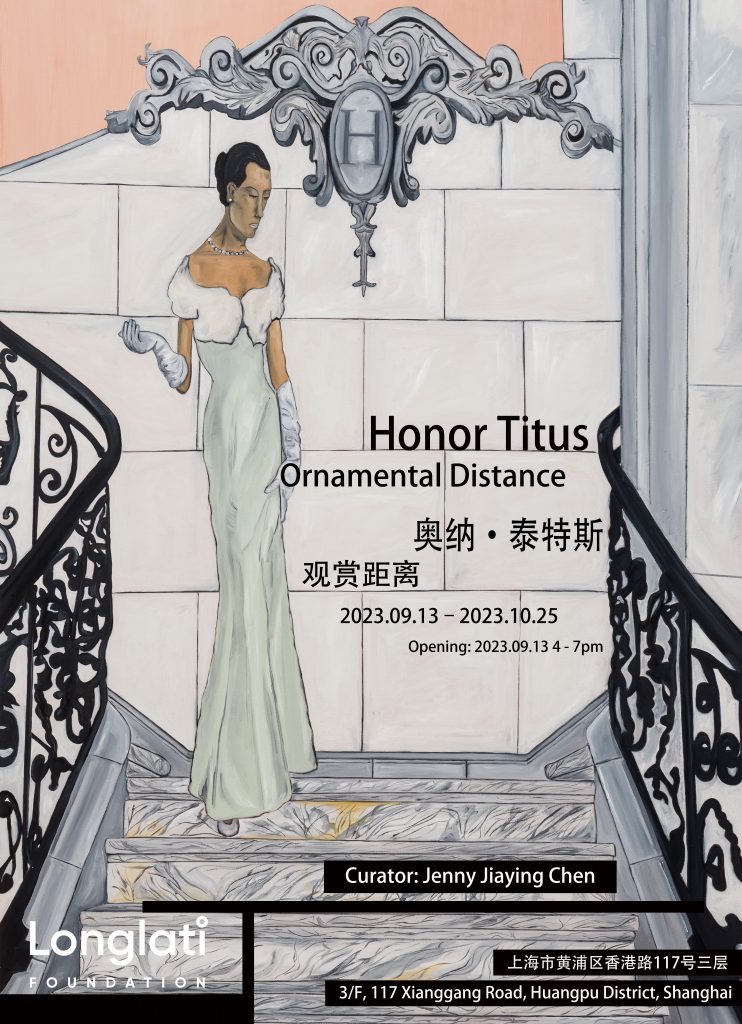 Longlati Foundation is delighted to present the inaugural solo exhibition of Honor Titus in China, titled "Ornamental Distance," opening September 13, 2023. Featuring a collection of thirteen new and recent paintings, this presentation will be the artist's first-ever institutional exhibition.
Titus reframes traditional depictions of bourgeois leisure from a fresh and multifaceted perspective, juxtaposing themes of exclusion and belonging. The artist explores this tension through a series of recurring symbols; for example, in his tennis-themed works, it is often represented by a motif of ornamental fences, which reject outsiders while disguising this exclusion behind an aesthetic, decorative facade.
"Ornamental Distance" also alludes to the distance at which viewers encounter these artworks. The protective barriers around the works have been replaced by decorative fences, inviting viewers to stand in Titus's shoes as they take in the depicted scenes: waltzes in upscale neighborhoods, galas, and moments of solitary rowing.
In both these episodes of leisure and the experience of viewing art, romantic and resplendent exteriors often belie an exclusive nature. Appreciation inherently entails a sense of distance, sometimes bordering on the voyeuristic. The characters Titus presents are elusive, making it difficult to determine if they are isolated observers on the outside or full participants indulging in the hubbub and opulence of the setting. Often, they exist simultaneously inside and outside––the female figure in Shimmering Jubilee gazing back from amidst a cluster of fireworks and the trumpeter seated on a tree stump in Dewey Would Go both capture an ephemeral sense of detachment amidst the revelry.
Yet Titus's paintings are also a reflection on his own identity. His depiction of Black figures in settings traditionally dominated by white elite society and prominent placements of the letter "H" create an explicit connection between the artist and his figures. Throughout this presentation, Titus plays with distance much like a player on a tennis court––first approaching close to depict detail and nuance, then stepping back to gain a deeper perspective on the whole.
About the Artist
Honor Titus (b. 1989, Brooklyn, NY) is an American artist who lives and works in Los Angeles. Titus is a self-taught painter whose work is deeply influenced by his creative past as a musician and poet. Before moving to Los Angeles in 2016, he assisted in the studio of artist Raymond Pettibon, who attended his poetry readings in New York. Painted in a range of dark, luminous jewel tones, his paintings often depict faceless figures in minimal urban landscapes, reflecting the sense of isolation and loneliness that results from a condition of anonymity in the urban environment. Suffused with a sense of romance, Titus's paintings are embedded with nostalgic references to a simpler time: a boy in baseball gear, a 1950s car painted cherry-red, a man with a bouquet of flowers in an old suit and fedora. Titus's simplified compositions and bold, flat patches of color are inspired by Les Nabis, which included French painters such as Maurice Denis and Felix Valloton. In their bold immediacy and emphasis on flat, decorative patterns, Titus's surfaces echo the style of graphic hyperrealism practiced by artists inspired by American advertising, such as Alex Katz. Titus's first solo exhibition premiered at Henry Taylor Gallery in Los Angeles 2020. His work was likewise featured in the group exhibition (Nothing But) Flowers at Karma, New York.