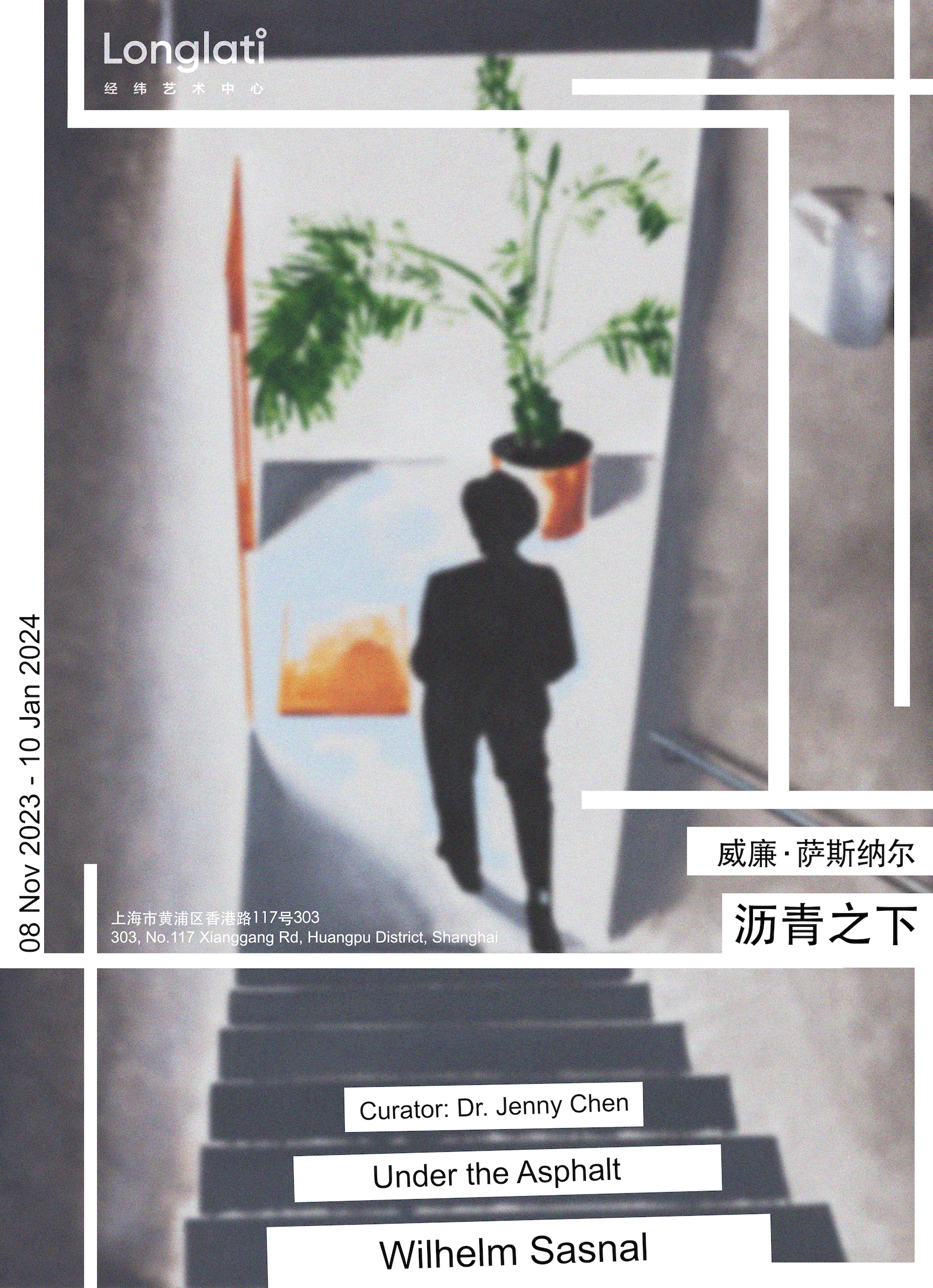 Longlati Foundation is delighted to present a major solo exhibition by the Polish artist Wilhelm Sasnal on November 8, 2023. This marks the artist's second solo exhibition in China after several years and will feature over thirty recent paintings, occupying two exhibition halls.
The motif of "asphalt" originates from the artist's early travels in Greece, where the pungent odor of asphalt mingled with the salty humidity of the Mediterranean, leaving an indelible mark in the sea of memory. Following this journey, Sasnal created his first artwork bearing this title. It may also allude to the hidden matter on the streets, which infiltrated during the early 19th-century Industrial Revolution. Once composed of soil, greenery, or pebbles, surfaces were absorbed and submerged beneath layers of dark asphalt, hidden from view. A century and a half later, when people declared, "beneath the cobblestones, the beach" [ sous les pavés, la plage ], they were inquiring eagerly about: "What lies under these rough asphalt roads?"
Underneath the asphalt, one might find fine, warm sand, or perhaps canvas. The liquid or semi-solid state of petroleum naturally evokes associations with oil paints. In the works presented in this exhibition, burned black colors are employed prominently – either as float signifiers of both the subject and the painterly characteristic; or, through the interplay of light and shadow, make black the firm asphalt routes on canvas, delineating forms and contours.
Nevertheless, just like his cinematic creations, Sasnal's exhibition offers no clear narrative or viewing path. The works are arranged in the space based on different connections, tempting viewers to invent their own stories in their minds. This, perhaps, is the charm of his paintings. Sasnal seems to borrow various characteristics of painting to experiment with film language within a limited plane: color as lighting, brushstrokes to render emotions, and a minimalist composition to abstractly purify the subject, akin to a close-up shot. When images under his hand are imbued with dynamics that spill beyond the frame, the pale boundary between abstraction and figuration is stirred and disrupted.
Ultimately, Sasnal's work is always about "authentic representation." This isn't just a belief underlying his work but also a recurring consideration. In the wake of collective trauma, where are the limitations of art as a vehicle for sincere expression? How can an artist, as a witness to history, still provide a genuine testimony during the dance with aesthetics? How can one faithfully represent reality without much bias as a world-spectator [ weltbetrachter ] in Hannah Arendt's sense? The ceaseless march of history doesn't drown out these questions but rather constantly probes the artist's inner self, making the gift of creation a blessed burden that falls upon their shoulders.
About the Artist
Wilhelm Sasnal (b. 1972, Tarnów, Poland) studied architecture at the Krakow University of Technology (1992-1994) followed by painting at the Academy of Fine Arts in Krakow (1994-1999). He has emerged over the last two decades as one of Europe's preeminent contemporary painters. Sasnal regularly uses photographic imagery – drawn from films, reproductions of art, pop culture or his own phone – as the starting points for his paintings, which then undergo various levels of distortion, simplification or abstraction. His work often addresses weighty historical themes such as the Holocaust, or familiar pop-cultural icons, as well as the people, places and objects around him, constituting an artistic document of post-Communist Poland at a time of socio-political transformation.
Sasnal has exhibited internationally with major solo exhibitionsthroughout Europe and the USA including: Such a Landscape, POLINMuseum of the History of Polish Jews, Warsaw (2021); Sadie ColesHQ, Kingly Street, London (2020); ENGINE, Kistefos-Museet,Jevnaker, Norway (2018); Sleep, Sadie Coles HQ, Kingly Street, London (2018); Take Me To The Other Side, Lismore Castle Arts,Ireland (2014); Haus der Kunst, Munich, Germany (2012); Whitechapel Art Gallery, London (2011); K21, Düsseldorf, Germany, andCentro De Arte Contemporàneo, Málaga, Spain (both 2009); Wilhelm Sasnal – Years of Struggle, Zacheta Narodowa Sztuki, Warsaw (2008); Matrix, The Berkeley Art Museum, Berkeley, California (2005); and Kunsthalle Zürich, Switzerland (2003). He was included in the XXVI Bienal de Sao Paolo, 2004, and was shortlisted, with four other finalists, for the 2004 Vincent Prize at the Stedelijk Museum, 2004. With Anka Sasnal, the artist has written and directed five feature-length films, most recently We Haven't Lost Our Way (2022) which premiered at the 72nd International Film Festival Berlinale in February 2022; preceded by Huba (2013), It looks pretty from a distance (2011), and Swineherd (2009). In 2020, Rizzoli published an extensive monograph exploring the artist practice over the past two decades, with newly commissioned texts by Brian Dillon, Pavel Pys, Kasia Redzisz and Andrzej Przywara.