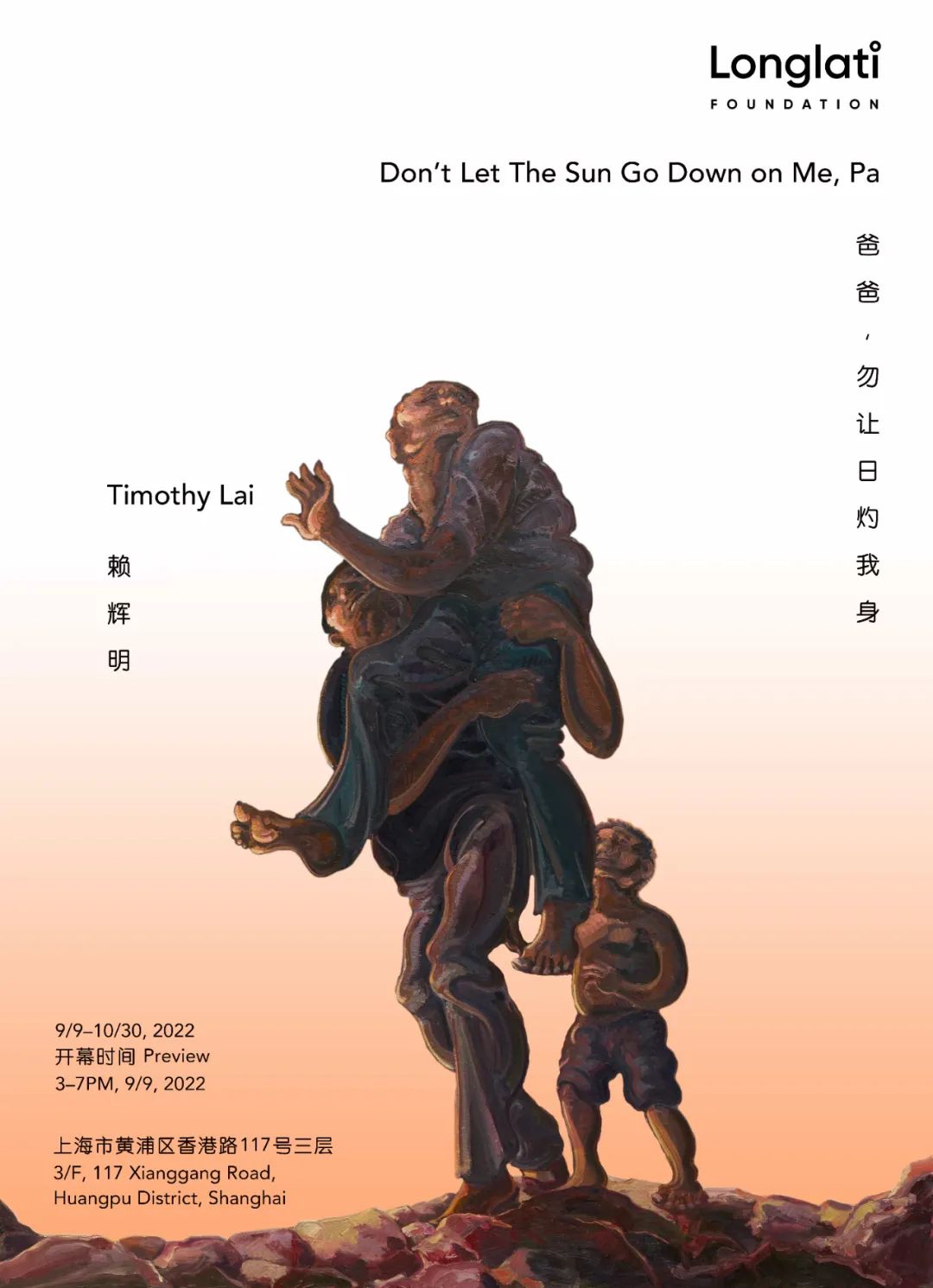 Longlati Foundation is pleased to present "Don't Let the Sun Go Down on Me, Pa", the first institutional solo exhibition of Asian-American painter Timothy Lai Hui Ming (b. 1987, Kota Bharu, Kelantan, Malaysia) and his debut in China. This new body of work cites Elton John's 1974 song "Don't Let The Sun Go Down on Me," transformed by "Pa" as an ending note. The impassioned plea for reciprocity within male fellowship is redirected into the complex father-son relationship, represented through conflict and negotiation on Lai's canvases. Exuberant hues of yellow and red, purple and brown cast the unique quality of liminal light, underscoring the fluid and ever shifting state of these confrontations.
The paintings are comprised of elongated and contorted bodies, mixed race figures derived from a re-reading of Western aesthetic entities. In the paired work Don't Let the Sun Go Down on Me, Pa – 1&2, Lai pays tribute to William Blake (1757–1827) and refers to the classical motif of shepherd in Blake's collection of poems Songs of Innocence (1789), a text illustrated by the poet's own etchings. An adult man standing in a captured landscape, an old brick or stone wall against him; a young boy riding on the man's shoulder; their hands clasped together. Lai deliberately takes an upward point of view to enlarge the gigantic body of the male figure, by which the small child is further diminished, abated and rendered dependent on the patriarch, just like the flock of sheep seeking for the lead.
Lai – whose mother is Mexican American and father is Chinese from Malaysia – explores the dynamics of kinship concerning his own personal history. Raised in a Catholic household, Lai was frequently exposed to Christian images, iconography and classical allusions. While conceptualizing the body of work, he began thinking about how the religious narratives of his early life helped facilitate his own understanding of fatherhood. In A Space Between, he deconstructs "the obedient son" shown in The Sacrifice of Abraham (circa 1627–28) by Italian Baroque painter Domenichino (1581–1641). Reconfiguring the flesh as an unruly bundle of potentials and movements, the artist introduces the idea of emancipating reason and will from the shackles of conviction. With time and gravity suspended, the nude male is frozen above in an ambiguous state of repose. The question of whether the figure is falling or flying, helpless or empowered is asked, but never answered.
In his practice, Lai is imbued with a sympathy for the classical sculptural canon and its physical expression of humanity. For example, he appropriates the rising geometry of the entangled bodies in Aeneas, Anchises, and Ascanius by Italian artist Gian Lorenzo Bernini (circa 1618–19). The eclectic adaptation featured in Father, Father's Father, and Child unveils intergenerational tensions and solidarity. With the sun sinking behind, the work celebrates the challenge of the father-image and demonstrates the precarious nature of masculine roles within a family unit.
The selection of small-scale works provides a more vulnerable description of what happens in intimate moments between fathers and sons. Lai endeavors to effect a reconciliation after violence or trauma. In addition, he sometimes takes the form of dogs to convey messages of devoted love. An older tired man, contemplating a small child; A young man with a dog patiently sitting for their next command or reward. A boy and his dog tending to their own wounds. The exhibition "Don't Let the Sun Go Down on Me, Pa" offers a uniquely comparative view on the anthropology of the transforming patriarchy and its accumulation.Text / Evonne Jiawei Yuan
About the Artist
Timothy Lai (b. 1987, Kota Bharu, Kelantan, Malaysia) lives and works in Providence, Rhode Island. He received his BA in Communication from the University of Texas at San Antonio in 2009, and his MFA in painting from the Rhode Island School of Design in 2017. His work has been featured in group presentations at CHART Gallery, Jack Barrett, Fabian Lang, Essex Flowers, Bass & Reiner Gallery, Good Naked Gallery, and Field Projects. His first post graduate solo exhibition was in 2019 at 00-LA Gallery and more recently had a solo exhibition at Jack Barrett in 2021. Recently, he was awarded the 2022 Rhode Island State Council of the Arts Fellowship in Painting.
Special thanks to Jack Barrett for its support of this exhibition.