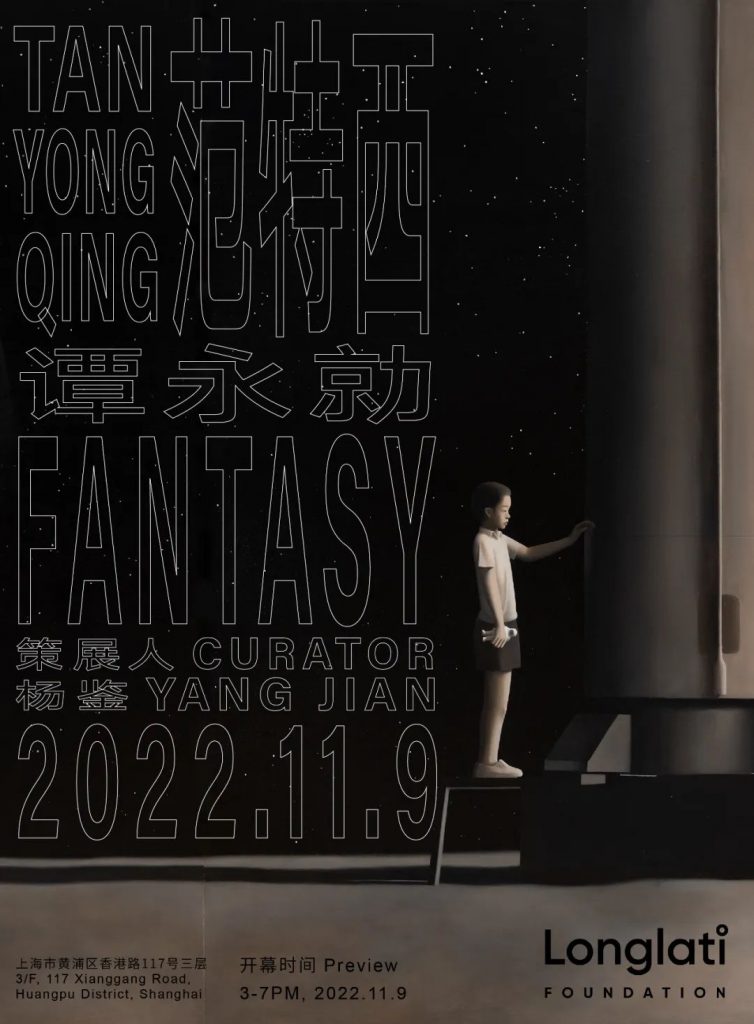 Curated by Yang Jian, "Fantasy" is Tan Yongqing's (b.1990, Shijiazhuang) first institutional show in China.  Driven by the idea of "Decade after Decade", this is the first time for Longlati Collection and Patronage Program to present the stage achievements of the practices of post-90s Chinese artists since its launch in 2017, among which Tan Yongqing has long been concerned and given strong back to. This exhibition carries a substantial research into the huge triptych by Tan Yongqing, which is the most significant piece in the artist's recent works. Commissioned by Longlati Foundation in 2020, it responds to the great proposition of "art meets technology" for Longlati Collection and Patronage Program.The following text is an excerpt from "Still Fantasy: Tan Yongqing's 'Eyes of Innocence' And Sci-Fi Allegories" written by Yang Jian for Tan's solo exhibition with Longlati Foundation:
Longlati Foundation's unique collection has greatly empowered and validated the Sci-Fi themes in Tan Yongqing's practice. The artist thus underwent an ambitious exploration in this body of work.
Tan's paintings are demure yet provocative, tender without melodrama. His calm and empathetic brush strokes tremor the viewer's heart like a bass solo. In Tan's previous works, he excels at depicting the internal struggles of and between individuals by communicating and substituting the first-person perspective; he presents a lonely yet not vulnerable observation and contemplation of the greater world. On canvas, Tan gives in plenty of space to the characters he creates — underdog protagonists in a grand and chilling dystopian narrative with a morbid sense of humor and a twist of a fairy-tale happily-ever-after — so a dialogue can take place.
The exhibition includes eight of Tan Yongqing's recent Sci-Fi themed paintings erected spontaneously like stone tablets throughout the Foundation's exhibition hall. The body of work reads like vignettes from the multi-verse: the triptych commissioned by Longlati Collection and Patronage Program, Luminous Night (2021), Out of Eden (2022), and Starry Fantasy (2022), blinks and shimmers like Big Dumb Objects in the vast and cold universe. With his systematic pictorial thinking, the artist freezes the fictional past and future into single frames in the blink of an eye. He intends to disrupt Arthur C. Danto's theory that film and camera technologies had robbed the painting medium of its previously unwavering role in narratives and decolonize painting with montage and mise-en-scenes. Therefore, Tan's paintings are not simply cinematic freeze-frames; they are mimicry, editing, and even casual flipping of the visual experience and language made familiar by cinematic technologies. The element of Time — its conceptual role as a form of regression or vital sign — has been mitigated or erased.
In most of Tan's paintings, the artist finds a way to simultaneously suspend the past and future in a specific objective present — a sort of un-reality propagated by technological advances. Stillness and stasis sweep the canvas, resulting in lagging movements, lacking vitality, slight dull pain, and so on; the characters in the paintings are often left trapped in a strange dimension with no escape. It is art's earnest effort to overturn Newton's first law of motion, to declare the apple had never fallen, and time moves counterclockwise. Tan Yongqing explores the allegorical nature of Science Fiction, which often highlights the importance of questioning and searching for individual freedom in a journey to emancipation over giving concrete answers. Perhaps this is the origin of the exhibition title, "Fantasy." Fantasy and its pin-yin spelling, "Fan Te Xi," is one of the most familiar English words in contemporary Chinese society. It is symbolic of primitive and straightforward imagination — a raw imaginative force that is often stunned at without acknowledgment of its origin (logic) or destination (result).
Text / Yang Jian
About the Artist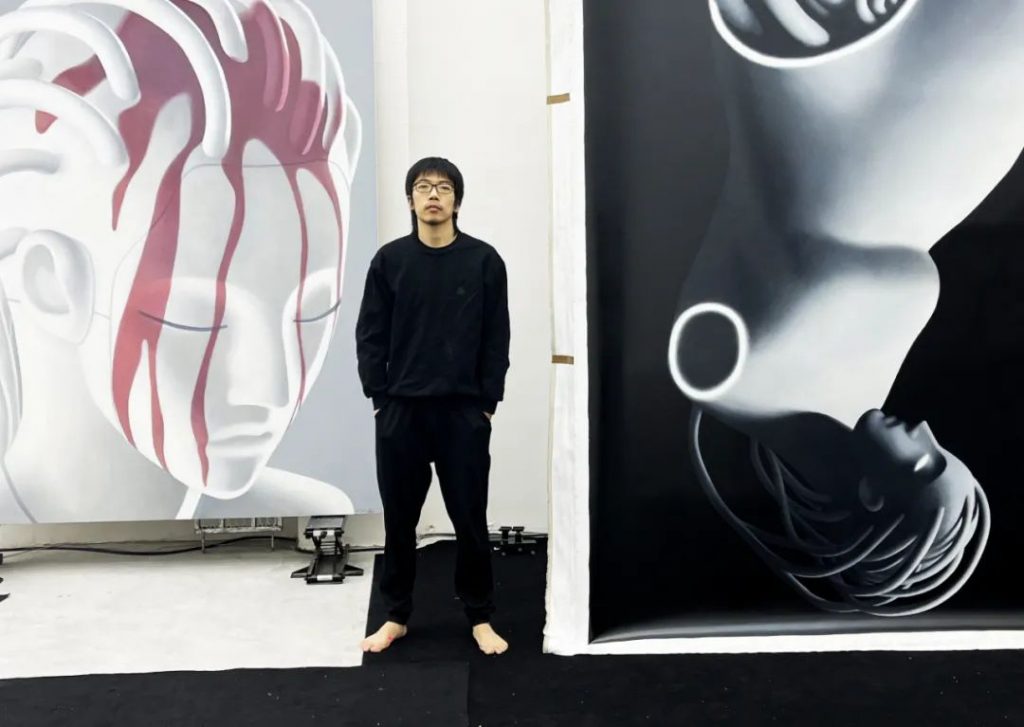 Tan Yongqing
Tan Yongqing (b. 1990 Heibei, China) received his Bachelor's and Master's degree in Oil Painting from the School of Fine Arts, Tsinghua University. Tan has dedicated his practice to dissecting the universality of life consciousness and the complexity of life forms. The human or "human-esque" figure in his paintings often appears out of focus, and against a clean yet muted background, they are characterized as gloomy, empty, and distant. They reflect the artist's sharp insight and precise grasp of his social conditions and spatial-temporal surroundings. Fascinated with Science Fiction and Physics, Tan possesses the creative passion of a classical painter and excels at weaving warm and cold tones to untangle the rich, sensual tension in his paintings.
About the Curator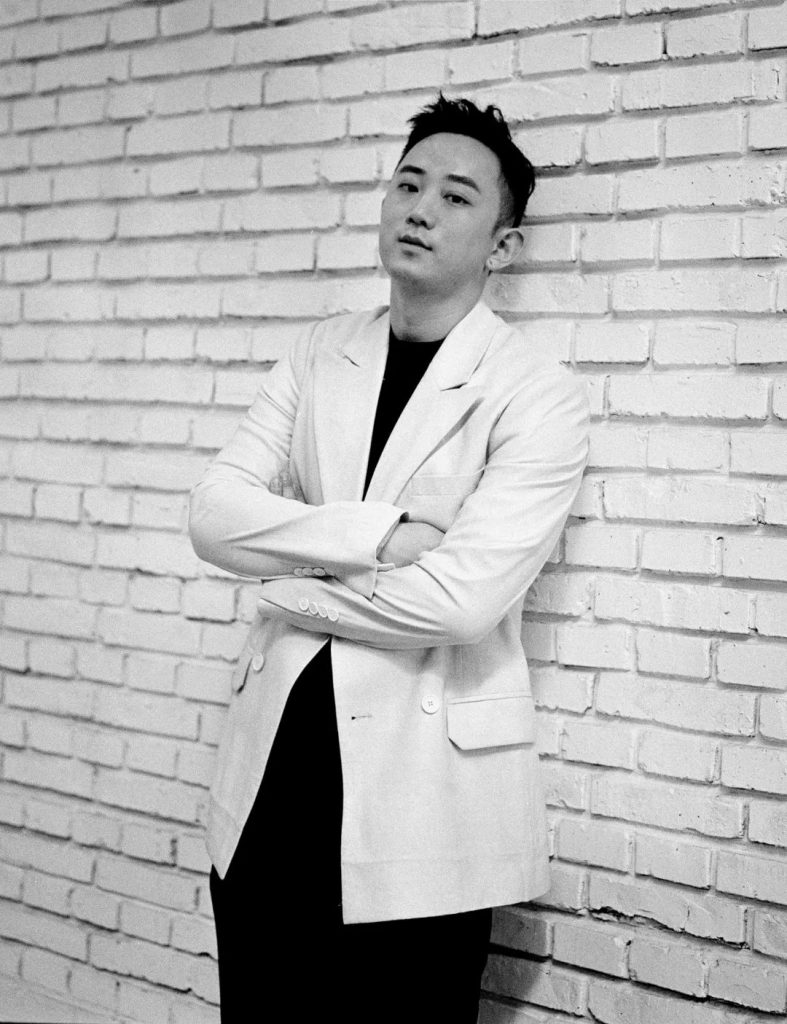 Yang Jian
Yang Jian's (b. 1990) curatorial work is founded on his training in Art History and writing on the mechanisms of the contemporary art industry. Following the entangled push-and-pull between the global and the local, Yang has conducted in-depth case studies of numerous Asian-identifying artists to build a curatorial genealogy and model of dissemination. He strives to maximize the creative efficiency of artists by socially scaling and consciously implanting individual artists and collectives in commercial and public spheres. At the same time, he attempts to connect different personal experiences and artistic expressions from different cultural backgrounds into a conceptual space that can support their grand historical narratives.
Special thanks to Hive Contemporary Art Center for their exclusive support of the exhibition.