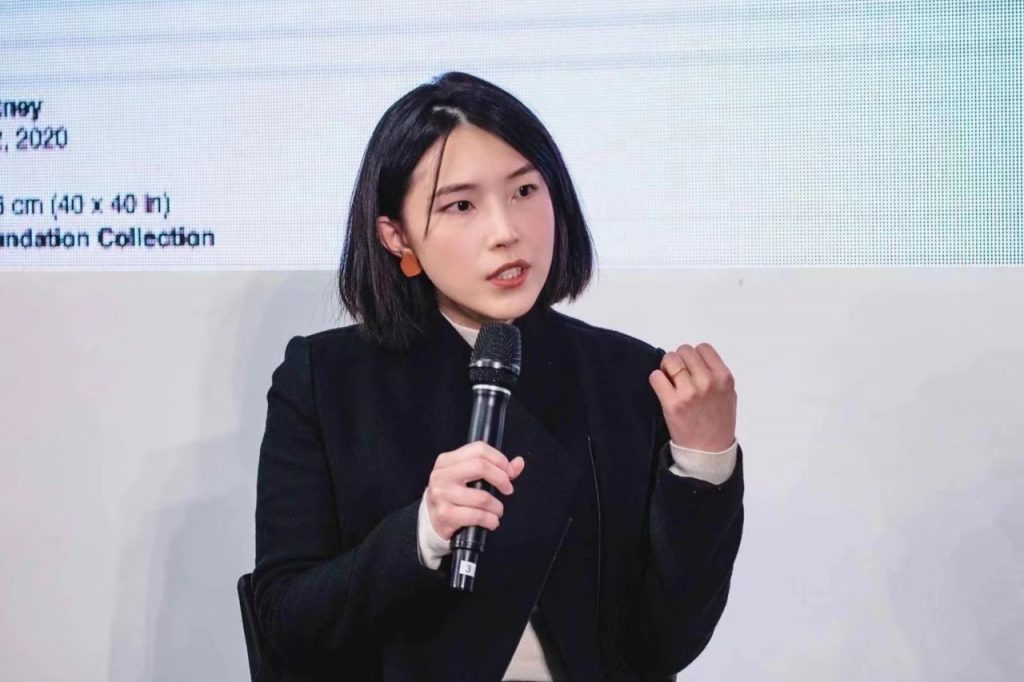 Longlati Foundation is pleased to announce the appointment of Jenny Jiaying Chen as Art Director, who has assumed her new position on March 1, 2023.
Jenny Jiaying Chen has been with Longlati Writers' Acquisition Committee (Shanghai) since the fall of 2021. In this new position, she will work closely with Longlati's team to fully engage in exhibition coordination and curation, establish connections with external institutions, reach full communication, and explore international collaboration possibilities. At the same time, she will combine her own research with exhibitions, publications, and public programs to provide a more diverse academic context for Longlati's collection and patronage program, to explore the practices of international women artists, minority and multiple minority groups, and post-1990 Chinese artists in the twentieth century, and to promote cross-regional, cross-community and cross-cultural dialogue. As a scholar focusing on the frontiers of inquiry, Jenny will also dive into Longlati Foundation's collection to realize a forward-looking group exhibition project based on sorting and organizing the artists' cases.
Jenny Jiaying Chen is a writer and curator who lives and works in Shanghai and New York. She is the Art Director of the Longlati Foundation and a Ph.D. candidate in Western Philosophy at East China Normal University. Chen's early practice revolves around technological reality and its permeating humanistic landscape. She recently turned to the question of the mind and body radicalized by technology and was inspired by Turing to delve into the inquiry of sexuality. Her Ph.D. thesis, More than Sex? –Feminist Reflections on Body- Matter focuses on the frontiers of the body, new materialism, and the metaphysics of sex. At the same time, she sees art as a concrete means of subverting the existing partition of the sensible and frames of intelligibility.
She was the winner of the "Hyundai Blue Prize 2019". She was also shortlisted for the "Emerging Curators Project 2018" of Power Station of Art (PSA) and the International Awards for Art Criticism (IAAC) of Shanghai 21st Minsheng Art Museum.
She holds a BA from the China Academy of Art and received her MA from Lancaster University in the UK. From 2015 to 2019, she held a position at MadeIn Company. She has contributed to media such as ArtReview China, Artforum (CN), Ocula, and Heichi. Her article was included in Forces of Reticulation, published by the China Academy of Art Press. Co-writing and editing of Shanghai Contemporary Art Archival Project 1998-2010 was published by MOUSSE in 2017. Recent Projects include: "Let 100 Reading Groups Bloom: Meeting Others Halfway", supported by Pro Helvetia Shanghai, Swiss Arts Council (2022-23); USB Multi-Port connect Exhibition", multiple art spaces in Shanghai (2021); "AI: Love and Artificial Intelligence", Hyundai Motorstudio, Beijing (2020); "Copernicus", E.M.Bannister Gallery of Rhode Island College, Providence (2019); "Li Hanwei: Liquid Health", Goethe Space, Shanghai (2019); "First edition of the Shanghai Curators Lab", Shanghai Academy of Fine Arts, Shanghai (2018).