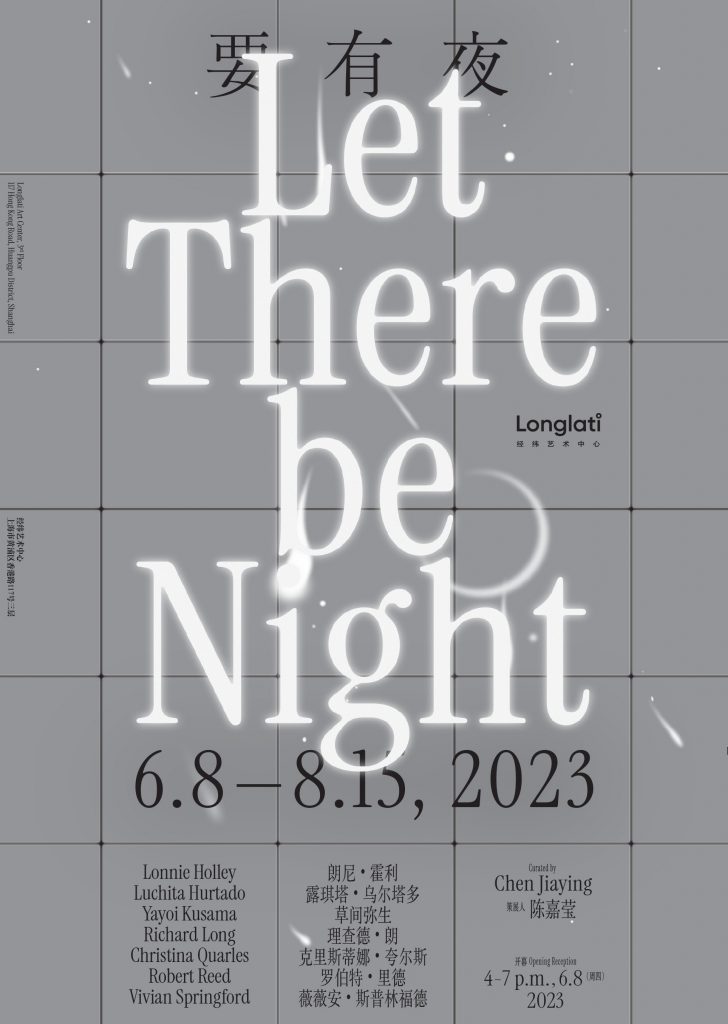 Conceived from its collection, Longlati Art Center will present a group exhibition, "Let There Be Night," on June 8, 2023, featuring the works of seven artists – who may themselves have long been in the shades of discourse (Vivian Springford, Luchita Hurtado, Robert Reed), or who constantly gazes into the dark abyss (Yayoi Kusama), or who are sensitive to observing and uncovering the hidden places (Lonnie Holley, Christina Quarles, Richard Long). The exhibition will draw on their work to reinterpret the institution's focus on the imagery of night.
Genesis records the moment of segregation between light and darkness. When God says, "Let there be light," the world, once in darkness and chaos, comes to light. Since then, light has been distinguished as a good essence that gives order from a lousy nature that produces chaos. As late as the 18th century, the Enlightenment, which claimed to have ushered in the Age of Reason, also emphasized the importance of light in its appellation – the root of the word "enlightenment" shows that "reason" means "to make light." However, the opposition between light and darkness was intrinsically associated with the opposition between men and women as early as the Pythagorean age. It's also one of the arguments for Aristotle's contempt for women. In the long run, male thinkers constructed themselves in countless metaphors about light but placed the others in the shadows, naming it mystery and irrationality. It was only when feminist criticism began to intervene that this historically asymmetrical construction began to be challenged.
"Let There Be Night" attempts to continue this intervention and propose a different aspiration. It is also inspired by Louise Lawler. In her solo "Lights Off, After Hours, In the Dark," Lawler presents a series of photographs of Donald Judd's installation. The installations came from a retrospective of the late artist at the Museum of Modern Art in New York from 2020 to 2021. Lawler uses the camera to document these minimalist works in the dark without artificial light, rejecting the exhibition's lighting as a symbol of institutionalism and presenting an alternative way to view authoritative art historical narratives.
This echoes the presentation of Tala Madani in Longlati's inaugural exhibition and coincides with the institution's concerns. Therefore, "Let There Be Night" will focus on the collection concerning these threads, providing each artist with an independent narrative. The exhibition will also launch a public program, "Heteroglossia," which intends to build a continuous academic discourse around feminism, minority, and Sinophone study. The project is dedicated to recording and replaying the cacophony of others, revealing the multiplicity of the Chinese, and opening up the space for clamor through long-term programs.